Press release
Lampeter man wins a brand new car in DVLA prize draw
A lucky motorist from Lampeter has won a brand new car worth over £10,000 after renewing his vehicle tax online.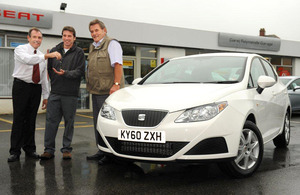 A lucky motorist from Lampeter has won a brand new SEAT Ibiza car worth over £10,000, just for renewing his car tax online.
Leslie Evans, a 44 year-old plasterer used the DVLA online service to tax his car and was automatically entered into a free prize draw to win one of three SEAT Ibiza Ecomotive 1.4 TDI cars that are given away each month.
Mr Evans picked up his car at Garej Raymond in Llanelli on 14 September. He said:
I am really excited about winning the car especially as it will save me money on tax and fuel. When the letter came through the post I thought "what's wrong" as it was registered post, then when I opened it and read Congratulations you have won a SEAT Ibiza car' I was stunned!
Mr Evans added:
I used the online service to tax my car because it's convenient and such an easy service to use. I'll certainly be taxing my car this way in the future.
With over 2 million customers every month, DVLA's online and telephone services to tax or SORN vehicles is proving a huge hit with drivers. The services are available 24 hours a day, 7 days a week and you don't need to find your MOT or insurance documents, as DVLA automatically checks these for you.
To renew vehicle tax or SORN quickly and easily go online or phone 0300 123 4321 or EVL Minicom 0300 790 6201.
Notes to editors
SEAT has provided the cars at no cost to DVLA or the taxpayer.
The SEAT Ibiza Ecomotive was chosen for the prize draw because it met DVLA's criteria (cars provided free of charge for a monthly prize draw, NCAP Safety Standards, low emissions, car tax bands A or B).
The prize draw initiative is part of a marketing strategy, to encourage motorist to use DVLA's Electronic Vehicle Licensing system, which has won both National and European Business Awards.
Press office
DVLA Press Office
Longview Road
Morriston
Swansea
SA6 7JL
Email press.office@dvla.gsi.gov.uk
Telephone (only for use by journalists and the media): 0300 123 0791
Telephone (out of office hours – only for use by journalists and the media): 0300 123 2407
Published 20 September 2010