World news story
Winners of the 2016 Kangourou English language competition
Wednesday 19 October: Ambassador Jill Morris awarded the 12 winners of the Kangourou English language competition.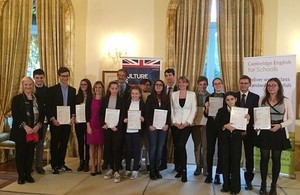 Each year the Kangourou English language competition involves thousands of young students from hundreds of schools, at all levels, across Italy. This year, over 22,000 students took part.
The competition, led directly by schools, is made up of three different phases. Students are divided into categories according to their school level and take a number of reading and listening tests. The top 100 make it to the finals, where they were also required to complete a written test and an interview.
The aim of the competition is to test student's language competences on the basis of the Common European Framework (CEF) and allow the best students to be certified by Cambridge English Language Assessment, the competition's scientific partner. The programme is the only one recognised by the 'Albo delle Eccellenze' (Register of Excellence), among the various initiatives for the teaching of English as a foreign language in Italian schools.
The 12 young finalists come from a number of different regions across Italy - from Campania to Friuli Venezia Giulia.
The award ceremony was organised in collaboration with Cambridge English Language Assessment, Italy.
Published 19 October 2016