Press release
L is for 'lucky' learner driver
A learner driver from Staines has won a brand new car worth over £10,000 after renewing his vehicle tax online.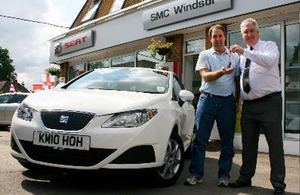 A learner driver from Staines is looking forward to passing his driving test after clicking his way to winning a brand new car.
When Michael Harrison a 34 year-old Engineer used the DVLA online service to declare his motorbike off road, he was automatically entered into a prize draw and is now the proud owner of a brand new SEAT Ibiza Ecomotive 1.4 TDI.
DVLA give away 3 SEAT Ibiza Ecomotive 1.4 TDI cars every month in a prize draw to encourage people to use its online and telephone services to tax or SORN vehicles. Mr Harrison joins over sixty other lucky motorists who have already won a car in the free prize draw.
Mr Harrison, who was presented with his car at the SMC Windsor SEAT dealership on 9th June said:
I couldn't believe it, I read the letter three times and then handed it to my parents just to make sure I hadn't misread it!

I contacted my friends to tell them the good news and they were all delighted for me, they said it's fantastic to see a competition prize go to someone they actually know!

I now need to pass my driving test as soon as possible so that I can make the most of my new car.
Andrew Rhodes, DVLA's Products and Services Director said:
Congratulations to Mr Harrison. He seems delighted to be one of our latest winners. I hope his good luck continues and I'm sure winning the car will encourage him to pass his driving test.
Anyone can be a winner just by picking up the phone or clicking a mouse, it only takes four minutes and everyone gets automatically entered into the free prize draw. You don't need to find your MOT or insurance documents, as DVLA automatically check them for you.
To renew vehicle tax or SORN quickly and easily go online or phone 0300 123 4321 or EVL Minicom 0300 790 6201.
Notes to editors
SEAT has provided the cars at no cost to DVLA or the taxpayer.
The SEAT Ibiza Ecomotive was chosen for the prize draw because it met DVLA's criteria (cars provided free of charge for a monthly prize draw, NCAP Safety Standards, low emissions, car tax bands A or B).
The prize draw initiative is part of a marketing strategy, to encourage motorist to use DVLA's Electronic Vehicle Licensing system, which has won both National and European Business Awards.
We aim to continue this prize draw in collaboration with SEAT until July 2010.
Andrew Rhodes is available for interview.
Press office
DVLA Press Office
Longview Road
Morriston
Swansea
SA6 7JL
Email press.office@dvla.gsi.gov.uk
Telephone (only for use by journalists and the media): 0300 123 0791
Telephone (out of office hours – only for use by journalists and the media): 0300 123 2407
Published 10 June 2010