World news story
Kosovo Roosters Donated New Rugby Kit
Kosovo Roosters Rugby Club have been donated a full set of rugby shirts and shorts from Bristol Rubgy, one of the leading clubs in rugby.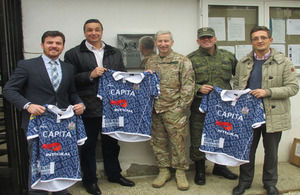 Kosovo Roosters are the only rugby team in Kosovo and are a great example of a multi ethnic sports team who play within Kosovo and across the region. They needed new kit and since funds are always tight it was a real bonus for the team to receive the donation from Bristol worth several thousand euros.
This came as a result of the initiative of Lieutenant Colonel David Jones, NATO Adviser to KSF who approached Bristol Rugby Club, his local team in the UK.
Veli Hoti, Kosovo Roosters Rugby Club said :
I would like to thank Bristol Rubgy for their extremely kind donation of professional playing kit but especially would like to thank Lieutenant Colonel David Jones, as without his energy, support and his duty to serve it would have never had happen, so bravo to him.
Published 22 December 2014