World news story
Koro Island visit to meet British Volunteers
High Commissioner, Roderick Drummond this week travelled to Koro Island to meet 17 British volunteers working on the island on youth and sports development projects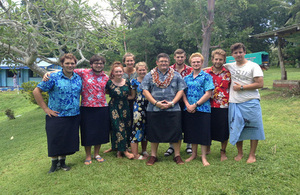 High Commissioner, Roderick Drummond this week travelled to Koro Island to meet 17 British volunteers working on the island on youth and sports development projects.
The schools earmarked by government for the volunteers to work with on the island are Vunivasa District School and Kindergarten, Nacamaki Primary School and Kindergarten and Koro High School.
The volunteers have a number of development aims that include outreach programmes for the Kindargartens, sports outreach workshops for primary schools and the 'educate the educators' prorammes for staff, inter-school competitions and youth fixtures. They will also run a full extra-carricular programme at the schools.
High Commissioner Mr Drummond said visiting the volunteers and seeing them working in remote areas of Fiji has been a wonderful experience. Apart from the cultural exchange, this also provide the youth of Britain an opportunity to experience friendly Fiji share British tradition and values in Fiji and support education in rural areas in Fiji.
You can see more pictures of the visit on our Facebook page
Published 27 March 2015