King's Troop RHA moves into state-of-the-art facilities in Woolwich
The King's Troop Royal Horse Artillery (RHA) has taken up residence in a new, purpose-built, state-of-the-art equestrian training facility and accommodation centre at Woolwich Garrison.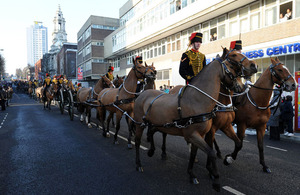 The new facilities were delivered by the Defence Infrastructure Organisation (DIO), working with industry partner Morgan Sindall.
Schoolchildren and veterans organisations lined the route as the entire Troop - comprising six gun teams with officers and mounted detachments in full ceremonial regalia - rode through Woolwich town centre and gave a salute to councillors and other dignitaries outside Woolwich Town Hall before formally riding into their new home at Napier Lines.
Each of the six First-World-War-era thirteen-pounder field guns was pulled by six magnificent horses to the delight of the crowds.
And for Woolwich, with its long history of military links, the event had additional poignancy, as these guns were returning to the home of the Royal Arsenal, where they were built, and of the Royal Artillery, for whom they were made.
On arrival at Napier Lines, the King's Troop Royal Horse Artillery hosted members of the Royal Borough of Greenwich and gave them a guided tour of the new facilities and stables.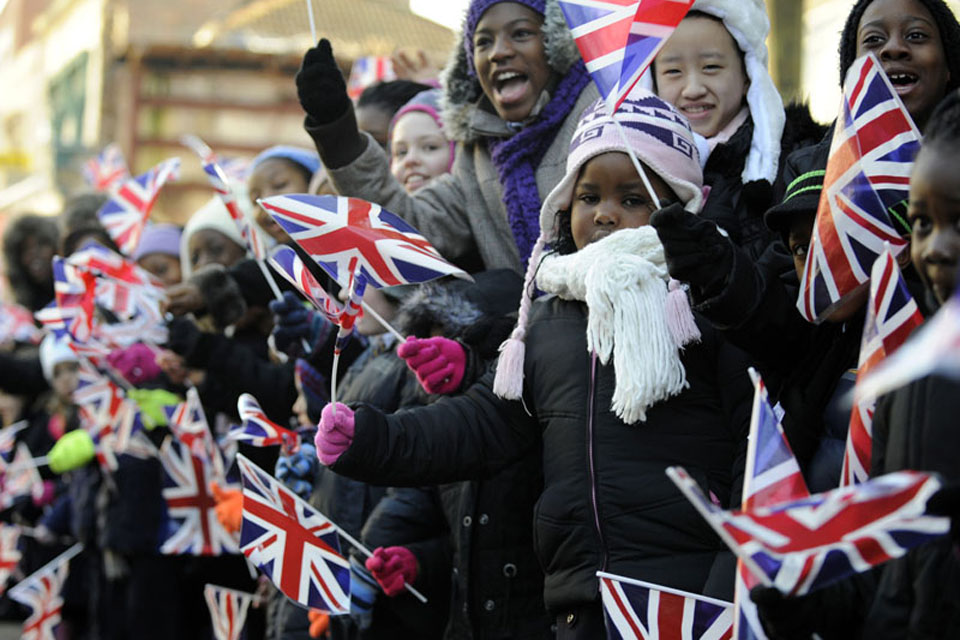 A major construction project, delivered as a stand-alone prime contract, the work included demolition of existing buildings as well as converting one of them into an indoor riding school.
Other work included:
Troop headquarters, stores and workshops
pharmacy and forge
gun park for housing the regimental cannons and limbers
stabling and exercise facilities for 140 horses
all-weather and grassed training areas.
The project was accepted for MOD use last month (January 2012), with an agreement for a groundbreaking biomass plant to be delivered at a later date. This will use renewable energy derived from horse manure collected on-site to provide heat for the new facilities.
All told, the project has resulted in the formation of 31,000 square metres of external exercise and parade areas together with a total floor area in excess of 10,500 square metres for offices and workshops, excluding hard and soft landscaping.
DIO Head of Projects, Bill Yardley, said:
We are delighted to have worked so successfully with our industry partner Morgan Sindall to deliver these state-of-the-art facilities.
We have put a lot of hard work into providing a new home for King's Troop which will be fit to help them to successfully prepare for the ceremonial duties which they will carry out in the months and years to come.
The Commanding Officer of King's Troop Royal Horse Artillery, Major Mark Edward, said:
We have inherited a fabulous new facility at Woolwich, the birthplace of the Royal Artillery. It's bespoke to our requirements and will be a real enhancement for us and for our horses.
The arrival of the King's Troop in Woolwich builds on links between the military and the borough of Greenwich dating back almost three centuries.
The Royal Artillery was founded in 1716, the first barracks for the Artillery were built in 1720 on the Royal Arsenal site, and the construction of the current barracks on Woolwich Common took place between 1781 and 1802.
On Monday, the unit carried out a 41-gun Royal Salute in Hyde Park to mark the 60th anniversary of the accession of Her Majesty The Queen to the throne and the formal start of her Diamond Jubilee year.
Prior to moving to Woolwich, the unit was stationed in St John's Wood and had been since its formation by King George VI in 1947.
The King's Troop Royal Horse Artillery is a British Army mounted, ceremonial unit that fires Royal Salutes on royal anniversaries and state occasions, and they provide a gun carriage and a team of black horses for state and military funerals.
The unit's soldiers also mount the Queen's Life Guard at Horse Guards each summer when the Household Cavalry Mounted Regiment embark on military training outside London.
King's Troop also has a vital operational role. Their soldiers are trained as fighting soldiers, with six of them currently deployed in Afghanistan. When the Army mobilises, the unit provides heavy goods vehicle drivers who deliver ammunition to artillery units around the battlefield.
Published 8 February 2012