News story
KidZania London joins forces with Year of Engineering campaign
The Kidzania Year of Engineering festival will bring engineering to life for children with a programme of events and activities throughout the summer.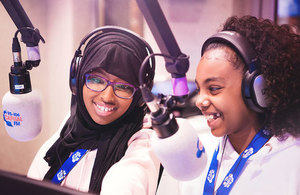 KidZania London - the indoor city run by kids – has teamed up with the government's Year of Engineering campaign, to launch a programme of exciting events and activities designed to inspire a new generation of innovators, inventors and problem solvers. The Year of Engineering festival will run at KidZania throughout 2018, with events kicking off in May through to September.
The Year of Engineering is all about transforming perceptions of engineering among children, their parents and teachers by bringing them inspiring experiences and role models, showing young people that engineering is a varied, creative career which shapes the world around us. Engineering is one of the most productive sectors in our economy, generating 25% of total UK GDP, but the industry faces a major skills gap and lack of diversity – the engineering workforce is 91% male and 94% white.
The Year of Engineering festival at KidZania will see a host of new and enhanced activities to support the campaign and learning criteria of pupils in key stage 1–3, with collaborations with Year of Engineering partners such as Remap, Usborne Books, Sea Cadets and the Aviation Skills Partnership, as well as existing brand partners such as Middlesex Cricket.
For schools, the festival will launch on 23 May, to coincide with KidZania's Step Into University event, followed by the city's STEM Fair from Wednesday 20 to Friday 22 June and STEAM Fair taking place on Friday 21 September.
Families will also be able to enjoy the fun of the Year of Engineering Festival during the summer holidays and weekends.
Eddie Kemsley, CEO at KidZania London, comments:
We are so excited to be announcing our partnership with the Year of Engineering. Inspiring the next generation of engineering minds is such an important task and what better way to motivate them than through providing real life experiences that they can engage and interact with

Not enough young people – especially young girls – think engineering is a world for them, let alone a potential career path. We're looking forward to working with the Year of Engineering alongside some truly fantastic brand and charity partners to make the subject more accessible and demonstrate engineering as exciting, rewarding and creative.
Year of Engineering Minister Nusrat Ghani said:
Children are natural engineers, from their creativity to questioning how things work. But outdated perceptions mean that too many young people are missing out on a career that brings so much opportunity

That's why we're delighted to be joining forces with KidZania to give young people the chance to discover engineering in the best way possible – through experiencing it for themselves.

Engineering is everywhere you look, from helping people with disabilities to sending satellites to space and putting the bubbles into bars of chocolate. The KidZania Year of Engineering Festival will help bring this to life, showing young people from all backgrounds how they could shape the world around them as an engineer.
With more workshops and events still to be announced, the KidZania Year of Engineering Festival programme currently includes:
Remap and Middlesex Cricket activity – 23 and 24 May 2018 and 20 to 22 June 2018
Remap, a national charity that helps disabled people achieve greater independence and quality of life, will be teaming up with Middlesex Cricket – already one of the firm favourites with children visiting KidZania – in the miniature Lords Cricket Ground at KidZania. Kids will engineer solutions to help people who are blind or partially sighted play cricket blind. Remap will also be running activities that encourage children to think like an engineer, developing solutions for people with different disabilities.
Pilot People Workshop – 20 to 22 June 2018
Hosted by the Aviation Skills Partnership, the Pilot People Workshop is designed to get young people thinking about what it takes to be a pilot. In particular, what effects being a pilot has on the body both physically and mentally. The challenge encourages children to think about the science of the body and maths.
Usborne Books STEM quiz – 20 June 2018
Usborne authors Alex Frith, Alice James and Jerome Martin will be at KidZania on Wednesday 20 June hosting a STEM quiz for KidZania visitors throughout the day.
Usborne, the UK's #1 independent children's publisher, is supporting the Year of Engineering throughout 2018, helping children understand more about engineering through inspiring and accessible STEM books – including a new title for the Year of Engineering, being released in the autumn.
Abrams & Chronicle Books pop-up stand – Thursday 21 June 2018
Abrams & Chronicle Books are delighted to be celebrating the bestselling, STEM-tastic books by dream-team Andrea Beaty and David Roberts, including Rosie Revere, Engineer, Ada Twist, Scientist and Iggy Peck, Architect (Abrams Books for Young Readers) on Thursday 21 June. Look out for the pop-up stand and inspire young engineers with activity kits, Rosie Revere bandanas, goodie bags and more!
Abrams & Chronicle Books is the London-based European arm of acclaimed publishing houses ABRAMS (New York) and Chronicle Books (San Francisco).
Sea Cadets marine engineering – 20 August to 2 September 2018
Sea Cadets, a national youth charity that works with 14,000 young people between 10 and 18 years old across the UK, will be showing children the engineering behind sea cadets with their interactive simulator pods.
KidZania believes in 'Learning by Doing'. By bringing the classroom to life in the city, it aims to boost children's curiosity and imagination through curriculum-based real-life activities.
Year of Engineering enquiries
Media enquiries 020 7944 3021
Out of hours media enquiries 020 7944 4292
Switchboard 0300 330 3000
Published 23 May 2018