Kidnap of United Nations-African Union workers in Sudan
The British Government has issued a statement which "strongly condemns" the kidnapping of two employees of the joint United Nations-African Union mission in Darfur.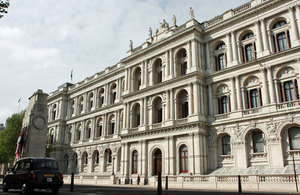 Issued today, the statement said:
The British Government strongly condemns the kidnapping of two Jordanian UNAMID personnel on 14 August, and calls for their immediate and unconditional release. The threat of kidnappings continues to hamper humanitarian assistance in Darfur, and we call on all parties, including the Government of Sudan, to send a clear signal that such acts cannot be tolerated. The perpetrators of such unacceptable acts must be brought to justice.
The British Government is also deeply concerned by the fragile security and humanitarian situation in and around Kalma Camp in South Darfur, where the delivery of humanitarian aid has been obstructed for two weeks. This has created an unacceptable situation. We support the call from the UN humanitarian chief, John Holmes, on 13 August for humanitarian access to the camp for the UN Agencies and for NGOs to be restored. We understand that some limited access was allowed on 16 August. We hope that full and unhindered access will now resume so that much needed humanitarian assistance can be provided to the Internally Displaced Persons.
Published 16 August 2010