World news story
Kenya government and development partners host a Family Planning satellite event
Kenya with support from UNFPA and DFID, hosted a satellite event connected to the Family Planning Summit 2017 happening in London.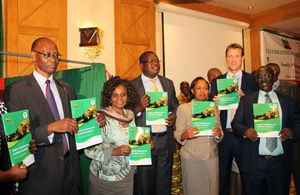 The UK will save the life of one woman every 90 minutes through its global leadership in supporting modern, voluntary family planning, International Development Secretary Priti Patel will announce today at a major international summit.
The UK's total package of support until 2022 will every year:
help save the lives of over 6,000 women by preventing maternal deaths – that's one woman every 90 minutes;
support 20 million women to receive voluntary contraceptives through family planning services;
help avert 6 million unintended pregnancies; and
help prevent the trauma of 75,000 stillbirths and nearly 44,000 new-born deaths.
The London Summit is co-hosted by Ms Patel, Melinda Gates (Bill and Melinda Gates Foundation) and Natalia Kanem (UN Population Fund – UNFPA), and will look at practical measures to reduce costs and increase availability for the millions of women who want contraception, but can't afford it or get hold of it.
In Nairobi, the Government of Kenya with support from UNFPA and UK's Department for International Development (DFID), hosted a satellite event connected to the Family Planning Summit 2017 happening in London.
Speaking at the event, the Head of DFID –Kenya, Pete Vowles said:
We believe it is necessary to expand access to contraception for family planning or birth spacing to break the cycle of poverty. It is investment in the health of women and girls in their choices. It is an investment in the futures of 1,000s of young Kenyan women.

Family planning investment is a 'best buy'; the success of family planning programmes that reach teenagers and other vulnerable populations may be a deciding factor between poverty and prosperity.
The UK has supported birth spacing programmes in Kenya for many years. Between 2010 and 2015, the UK invested £27 million (Ksh 3.5 billion) to help increase access to, choice and quality of Family Planning services in Kenya, as a result of which over 460,000 Women of Reproductive Age (WRA) are now receiving contraception.
The UK has also invested a further £31 million (nearly Ksh 4.1 billion) since 2013 into family planning services in rural Kenya. This has enabled a further 26,000 women to access modern Family Planning services, contributed to 250,000 couple years of protection and averted 66,000 unintended pregnancies. The services also benefited 6,500 youth/adolescents.
The event, themed "Family Planning: Empowering People, Developing Nations" aimed to raise the profile of family planning and called for more action on family planning reach and interventions. The event was also used to mark World Population Day which takes place on 11th July each year. Present at the event was Dr Ademola Olajide, Resident Representative – UNFPA Kenya, David Soti, Ministry of Health and Dr Nduku Kilonzo Head of National Aids Control Council among others.
Published 12 July 2017