Kent cadets celebrate 100th anniversary on the Rock
Over twenty Army cadets from various towns in Kent visited the Rock of Gibraltar recently as part of the Army Cadet Force's 150th anniversary celebrations.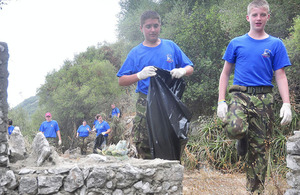 The visit has been particularly fitting as this year is the 100th anniversary of the formation of the Kent Army Cadet Force.
Leading them has been Captain 'Mo' Morris who has been in the cadet movement since he was thirteen. Despite now running his own business, Captain Morris has climbed up through the ranks and is now the officer-in-charge of Exercise Rock Adventure. He said:
This is the first time that Kent's cadets have ever been to Gibraltar. In fact, it's the first time that we've had an exercise outside the UK and, for some of our youngsters, this is the first time they've ever been abroad.
As well as visiting most of the Rock's tourist sites, the cadets were shown around all sections of RAF Gibraltar and were given tours of the Rock's tunnels and caves. Captain Morris continued:
But the highlight of the week without any doubt was Saturday which we spent with the Gibraltar Army Cadets. Some of the day we did water sports such as kayaking, raft-building and trips on the RHIBs [rigid-hulled inflatable boats] but the two cadet units also worked together on a community project in which we tidied and cleaned Royal Anglian Way and Devil's Gap.
It was such a successful day that the Commandant of Kent Army Cadet Force has already invited Gibraltar's cadets to join us on next year's annual camp in the UK.
Meanwhile, Gibraltar's Cadet Force will see a new intake of cadets start their training on Wednesday 8 September 2010. Anyone, male or female, between the ages of 12 and 17, who wishes to join the unit should call the Royal Gibraltar Regiment Recruiting Office in Casemates on any weekday morning. Further details are available from Warrant Officer Class 2 Alan Montegriffo on (+350) 200 40240 or (+350) 541 17000.
Published 20 August 2010