Ken Clarke: courts to see sensitive intelligence
New proposals allowing secret intelligence to be used in courts were announced by Justice Secretary Kenneth Clarke today.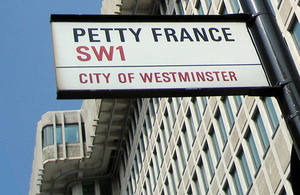 The Justice and Security Green Paper will ensure that the sensitivity of evidence does not prevent cases being heard in the courts - enabling justice to be done without compromising national security.
The paper also sets out proposals to reform how the security and intelligence agencies are overseen and scrutinised.
Modernising the system
Civil cases have previously collapsed because vital evidence could not be given in a public courtroom for fear of compromising national security and public safety.
The new proposals will mean changes to civil court procedures so that courts can take account of more material, with safeguards in place to protect national security.
The Green Paper also includes proposals to modernise the Intelligence and Security Committee (ISC) - granting it increased powers and independence.
Justice Secretary Kenneth Clarke said: 'For justice to be done and the rule of law to be upheld, courts should be able to consider all of the facts of the case. At the moment, we are not always getting at the truth because some evidence is too sensitive to disclose in open court.'
He added: 'The proposals in this Green Paper are based around the principles of rigorous, impartial and independent justice, fairness and proportionality. New measures will be balanced by enhanced safeguards and mechanisms to make sure that individuals' rights are protected, the process remains fair, and justice can at last be done.'
The Green Paper Consultation will remain open until 6 January 2012.
Published 19 October 2011