Press release
Kayakers Rescued Off Devon Coast
Three kayakers were rescued on Saturday 8 miles off the Devon coast.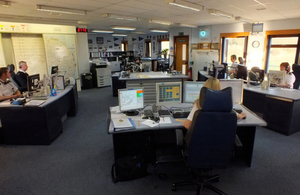 At 8.25am on Saturday 21 June 2014 Swansea Maritime Rescue Coordination Centre received a mobile phone call from 3 kayakers who reported they had got into difficulties after the double kayak had capsized during a 22 mile paddle from Ilfracombe to Lundy Island. The mobile phone signal from the caller was weak and dropped out at times due to the kayakers being far offshore but Coastguard coordinators were able to get an approximate position of the incident.
Swansea Coastguard asked Appledore and Clovelly RNLI lifeboats to head to the location 8 miles off the coast and while lifeboats were heading to the scene Swansea Coastguard was contacted by the container vessel Endeavor, which spotted the kayakers. The vessel stood by until the Clovelly inshore lifeboat arrived and recovered the 3 men and then rendezvoused with the Appledore all weather lifeboat.
The men were taken back to shore by Appledore RNLI lifeboat and were assessed by paramedics for hypothermia but fortunately did not need further medical attention.
Coastguard advice for kayakers in general is to always wear a buoyancy aid, check weather and tides, keep within your limits. Make sure you have a good range of communications on board if you need to raise the alarm because mobile phone and handheld VHF coverage can be limited when offshore. Carry flares, a PLB (personal locator beacon) and a GPS (Global Positioning System).
Maritime and Coastguard Agency press office
Press enquiries 020381 72222 (Monday to Friday, 9am-5pm)
Outside these hours, for emergency press enquiries only please dial the above number. You will hear a message giving an out of hours pager number.
Published 23 June 2014