Press release
Kayaker rescued from the sea off the Gower coast
A man has been rescued from the sea in Oxwich Bay after his kayak capsized and sank.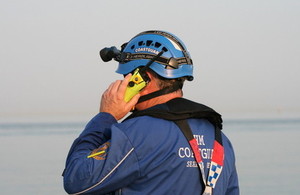 Swansea Coastguard received a 999 call at 8.35pm on Wednesday 30 July 2014 from a member of the public who had met a kayaker who had paddled to shore to raise the alarm. His friend's kayak had capsized and then sunk and he was now in the water. He was not wearing a buoyancy aid. Another kayaker had attempted to tow the kayaker whose vessel had capsized to shore but quickly had to abandon this attempt and gave him his buoyancy aid.
Meanwhile, Swansea Coastguard requested the Horton RNLI inshore lifeboat to launch and sent the Oxwich Coastguard Rescue Team to the scene. The lifeboat quickly found the kayaker who was still in his boat safe and well. They searched for the second kayaker in the bay for 20 minutes and were eventually able to hear his calls for help and rescue him from the water as the light was fading.
Swansea Coastguard's Marc Lancey said:
We were very relieved that the lifeboat was able to find the man in the water before darkness fell. He was wearing a grey t-shirt and grey buoyancy aid and was therefore difficult to locate in the sea.

If you are going kayaking, always wear a buoyancy aid. Take at least a couple of means of calling for help with you. A VHF radio is ideal backed up by mini marine flares and a mobile phone sealed inside a plastic bag.
Maritime and Coastguard Agency press office
Press enquiries 020381 72222 (Monday to Friday, 9am-5pm)
Outside these hours, for emergency press enquiries only please dial the above number. You will hear a message giving an out of hours pager number.
Published 31 July 2014