World news story
Jutland Memorial service Fredrikstad
The British Deputy Ambassador to Norway attended a service to commemorate those who died in the Battle of Jutland.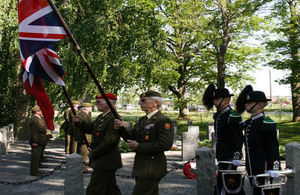 The British Deputy Ambassador Dr Carol van der Walt and Defence Attaché Lt Col Matt Skuse took part in the Jutland Memorial service in Fredrikstad this morning. Air Chief Marshal (Retd.) Sir Joe French , Vice Chairman of the Commonwealth War Graves Commission, and Lady French attended, and Sir Joe gave an address. The Canadian Ambassador to Norway, Artur Wilczynski, the Deputy German Ambassador to Norway, Peter Silbeberg, and Audun Halvorsen, Political Advisor at the Norwegian Ministry of Defence were among the 34 people present for the commemoration. The Akershus Fortress Veteran Company provided the Guard of Honour, and the buglers came from the King's Guard.
Norway was neutral during the First World War so commemorations garner less attention than those for Second World War anniversaries. Lt Col Skuse began the ceremony by outlining the history of the Battle of Jutland, fought on 31 May 1916. He noted that there are 166 British and Commonwealth casualties of the First World War buried in Norway, in 16 separate cemeteries from Narvik in the North to Tonsberg in the South. 76 of those graves are for men killed at Jutland, who are at rest not only in Fredrikstad, but also in Arendal, Egersund, Farsund, Alfaset, Mandal, Odderness, Risor, Stavern and Tonsberg.
Lt Col Skuse concluded:
Here, exactly 100 years after that dramatic day, at the site of the graves of 7 known and 11 unknown British sailors from the battle of Jutland we gather to honour the memory these men, of the other dead from both sides at other cemeteries both in Norway and across Scandinavia, and of the thousands of others that have no grave but the sea.
We also salute those whose suffering started on that day; those injured and hurt, either visibly or invisibly, and we spare a thought for those families and loved ones left behind. It's also appropriate to thank the men and women who, from that day and for all the days since, have tended the memory of these men; at the beaches on which they washed ashore, and at the graves in which they now rest.
Published 2 June 2016