News story
Justine Greening joins first UN panel to boost economic opportunities for women
Britain backs the launch of a new expert group that will put women's economic empowerment on the global agenda.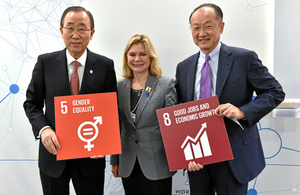 The first ever High Level Panel on Women's Economic Empowerment has been announced by UN Secretary General Ban ki-Moon at the World Economic Forum in Davos.
Backed by the UK and the World Bank, the panel will bring together leading politicians, expert economists, charity heads and business leaders to jumpstart a global movement on women's economic empowerment.
International Development Secretary Justine Greening is a founding member of the panel. Welcoming its launch, she said:
I am hugely proud to be a part of this panel. Investing in girls and women isn't just about basic human rights, it's about fully unlocking the potential of half the world's population.

The UK is already at the forefront of this effort. At the Department for International Development I have put improving the lives of girls and women at the very heart of our work and Britain is successfully leading the fight against FGM and child marriage, as well as getting girls into school and women into jobs.

Strong economies need the contribution of everyone – including women – and this panel will spearhead a movement to put women's economic empowerment on the global agenda like never before.
The panel will launch a global consultation, speaking to people all over the world and giving a voice to some of the most marginalised and invisible.
They will then report back to the UN, and all governments of the world, with bold and practical recommendations for improving the prospects of girls and women.
The first meeting of the High-Level Panel will be at the UN in March 2016, during the 60th session of the Commission on the Status of Women - the global body dedicated to the promotion of women's rights.
---
Find out more
Published 21 January 2016