Press release
Justice Minister meets frontline staff at HMP Peterborough
Dr Phillip Lee visits prison to meet staff and listen to the challenges they face and the support they give to help offenders turn their backs on crime.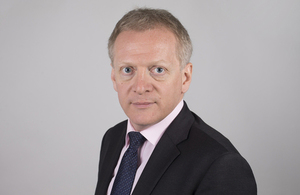 He thanks staff at HMP Peterborough for their 'vital work' helping to deliver major reforms to improve safety and cut reoffending
Follows £100 million investment to tackle violence, drugs and reduce violence across the prison estate
Justice Minister Phillip Lee visited HMP Peterborough today and paid tribute to dedicated staff as part of a tour of prisons to engage with frontline prison officers and staff.
The visit comes after Justice Secretary Elizabeth Truss announced a major package of reforms to improve safety – including an additional £100 million to help tackle the rise in drugs, reduce violence and improve safety.
HMP Peterborough has formed close links with the local community to help to provide training, education and employment opportunities for female prisoners, helping to reduce reoffending, cut crime and create fewer victims.
During his visit, Minister Lee met with Peterborough's new Director Damian Evans, to hear first-hand the challenges that staff face supporting the women in their charge, and how the wholescale reforms to the prison system will help to combat the rise in drugs, drones and mobile phones entering our prisons.
Justice Minister, Dr Phillip Lee, said:
Prison Officers at HMP Peterborough do a challenging and often dangerous job and work with a range of complex and vulnerable women, who need intensive help and guidance.

I came here today to express my gratitude to the Director and his team for the work they are doing, which will help reduce reoffending, cut crime and lead to fewer victims.

We will continue to listen to them and all prison staff as we develop our strategy on female offenders and deliver on our important reforms to make prisons safe and cut reoffending.
The positive work at Peterborough represents the wholescale changes that are taking place across the prison system following on from the White Paper announcement last month.
This includes giving governors more powers over education, work and health, so they can tailor support to the prisoners in their charge.
In the New Year, we will announce further reforms on the way we manage female and young offenders.
Published 1 December 2016