News story
Just the tonic! UK gin exports up by a third as the G&T goes global
Gin-lovers worldwide will toast World Gin Day as British gin and tonic exports reach a record £390 million.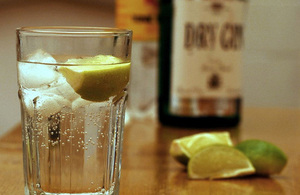 Gin-lovers worldwide will toast World Gin Day on Saturday with a classic British gin and tonic as exports of our national spirit reach a record £390 million, Environment Secretary Elizabeth Truss said today.
Exports of top-class UK gin have risen by 37% in the past five years, with sales to 139 countries bringing £1.76 billion to our growing economy. The UK is the biggest exporter of gin in the world and 70% of our gin goes to discerning drinkers overseas. In 2014 we exported enough gin to make over 1.6 billion gin and tonics.
The British spirit once nicknamed 'mother's ruin' has become the sophisticated tipple of choice for cocktail fans the world over, featuring in specialist gin bars from Melbourne to Madrid. A world away from Hogarth's infamous Gin Lane, premium gin brands like Tanqueray No. 10 and Hendrick's now account for over a quarter of the UK gin market, with sales of premium bottles up nearly 50% in the two years to 2014.
A host of British micro-distilleries are creating superior spirits to feed the global taste for gin, pioneered by Sipsmith, which in 2009 became the first new copper distillery to open its doors in London since 1820. Today there are more than 35 established micro-distilleries across the UK, and new ventures are springing up every month. Shops and bars around the world now feature small batch British gins concocted in boutique distilleries from Edinburgh to Newquay alongside household names like Gordon's, Beefeater and Bombay Sapphire.
Welcoming the latest export figures, Environment Secretary Elizabeth Truss said:
Our gin will be enjoyed around the world this weekend thanks to the vision and innovation of our distillers, who have pioneered a global revival of this quintessentially British drink. It's fantastic to see so many new British businesses making first-rate products for export, contributing to our long term economic plan and helping to build a strong economy here in the UK. The UK's reputation for excellent quality means our gin is the first choice for martinis in bars the world over.
Nicholas Cook, the Director General of the Gin Guild, which lists the details of 80 different types of UK gin in its online 'Ginopedia', commented:
Gin is a firmly-established part of British culture, dating way back to the early 17th century and some of our distilleries have been producing gin since then. Many new distilleries have emerged over the last few years, reflecting the new interest in gin, either enjoyed with tonic or as a key ingredient in fashionable cocktails.
A gin and tonic, perfect for the summer months, should be well served, with plenty of ice, a good garnish and a quality chilled tonic water, or alternatively enjoyed as a refreshing cocktail. Craft distillers Warner Edwards have been creating artisan spirits in a converted barn on a Northamptonshire farm for two years, winning a number of awards—including being named one of Defra's 50 Food Stars and reaching the final of this year's BBC Food and Farming Awards.
Tom Warner, co-founder of Warner Edwards, said:
Our strong first year's trading has doubled year on year ever since, so we are in significant growth. Export is a big focus for us now and as a result we are working closely with UKTI. Our business target is to export 70% of our volume in line with the industry. Currently we are in the Benelux region, Italy and Switzerland with a few more markets in our sights.

The future of UK gin is bright—the quality is exceptionally high and the new wave of distillers are creating some really interesting flavours. Brand Britannia is a very strong quality standard and none more so than in gin!
Gin is the latest in a long list of export successes for the UK—food and drink exports were worth nearly £19 billion last year. Innovation is thriving, with around 16,000 new UK food and drink products introduced every year—second in the world only to the US. Food and drink remains the country's biggest manufacturing sector, with the food chain contributing £103 billion a year to our economy and employing 1 in 8 people.
Photo credit: Wikipedia commons
Published 13 June 2015