Juror and defendant sentenced for contempt of court over Facebook
Two women jailed for Facebook discussions which caused a trial to collapse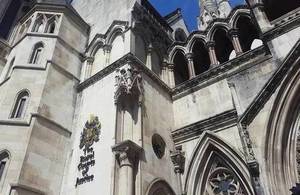 Following a case brought by the Attorney General and presented by the Solicitor General, a juror and an acquitted defendant in a drugs conspiracy trial in Manchester Crown Court have been given custodial sentences (1 suspended) at the High Court in London for contempt of court over online discussions the 2 had engaged in during the trial. They were found guilty by the High Court on Tuesday 14 June.
Joanne Fraill, the juror, and Jamie Sewart, the defendant, discussed the trial on the social networking site Facebook. Their activities led to the trial in Manchester Crown Court in 2010 being abandoned.
The Lord Chief Justice Lord Judge, Mr Justice Ouseley and Mr Justice Holroyde, sitting at the High Court, heard how the pair discussed the deliberations of the jury of which Fraill was a member and which had acquitted Sewart but had yet to return verdicts on 3 other defendants. The trial, which had been running for 10 weeks, ended when the judge discharged the jury after learning of Fraill's actions. Fraill was sentenced today to 8 months in custody and Sewart, to 2 months' custody, suspended for 2 years.
Solicitor General Edward Garnier QC MP, who presented the case in person, said:
The Lord Chief Justice could not have been clearer. Joanne Fraill and Jamie Sewart's conduct was a clear contempt of court. Jurors should take careful note and know that the Law Officers will prosecute those who commit contempt.
Both of these women were well aware that they should not have been engaging in this discussion. The jury system is a cornerstone of our society and confidence in this vital part of our criminal justice system will crumble if jurors do not take their responsibilities seriously. Long before social networks, the courts have been in no doubt that discussions inside the jury room must stay there. The internet doesn't make judges' warnings not to talk about a case or research it any less important.
The application to prosecute was made by the Attorney General, Dominic Grieve QC MP, for contempt of court at common law and under section 8 of the Contempt of Court Act 1981. The Attorney and Solicitor General are able to bring proceedings in their public interest capacity.
Published 16 June 2011