Jurassic Coast: the perfect preparation for Afghan-bound troops
The crisp autumnal morning chill is punctuated by the dull crump of tank shells hitting their distant targets. Precise instructions ensure that weapons' systems are swiftly recalibrated to land every round as close to the target as possible. Report by Tony Moran.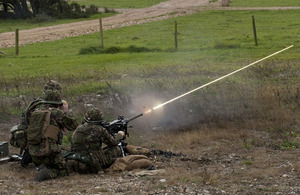 Concentration furrows the young gunners' brows as they adjust controls and a fusillade of 30mm shells burst from the cannon barrels of each Scimitar light tank ranged along the firing position.
Damage reported back, there is no break in routine as the soldiers continue their relentless pounding of the distant targets, continuing their work until they have achieved their objectives.
This activity is not taking place amid the heat and dust of Afghanistan, but against the rolling backdrop of Dorset's Jurassic Coast. Yet, what takes place within sight of the English Channel is a vital stage in preparing young soldiers to play their part in military operations.
These young men in their Scimitars are members of Queen's Royal Lancers (QRL), who are in the final stages of training at Lulworth Ranges, which is managed by Defence Estates.
This last piece in the training jigsaw allows them to secure the qualification that lets them become fully-fledged gunners. They can then be deployed to the front-line with their regiment, which is currently serving in Afghanistan.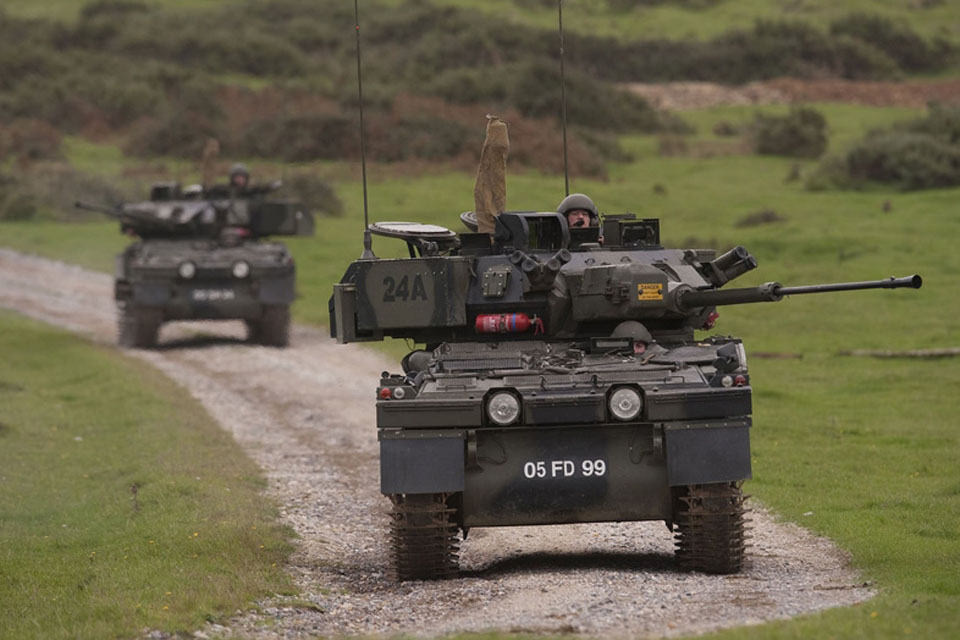 Major James Cripps, of QRL, said:
These guys get very valuable training experience using the facilities at Lulworth, which cannot be easily replicated elsewhere. The regiment is based in Catterick and we just don't have the facilities to do this training up in Yorkshire.
They are now in the final stages of their training to qualify to operate armoured fighting vehicles, such as the Scimitar. Having learned to drive the vehicles at the nearby Armour Centre, in Bovington, they then use Lulworth to learn how to fire the weapons effectively.
The extensive firing ranges at Lulworth can accommodate advanced troop fire and manoeuvre exercises. A wide range of units across the UK's Armed Forces use the range's excellent facilities for general and mission specific training.
Whilst QRL were using the range to train young gunners in the art of precision gunnery, further down the range Marines from 30 Commando were hard at work training ahead of deployment to Afghanistan early next year.
During a break in supervising his men training on machine guns, Capt Gus Precious said:
Training facilities like Lulworth are invaluable for us, as they allow us to learn how to use the equipment effectively, before heading out to the front-line. Once we're out in Afghanistan, the intensive training that our guys have put in pays off as we're able to fire more accurately - reducing risk to civilians and damage to buildings.
We're continuing to help build a safer Afghanistan by working closely with the Afghan people and security forces. We can pass on the experience gained in weapons training at Lulworth to our counterparts to enable them to take on responsibility for security themselves.
The stunningly beautiful landscape around Lulworth Cove, belies a set of state-of the-art training facilities which give UK troops the opportunity to rehearse the use of every type of armoured fighting vehicle currently in use - including Warrior, Jackal, Viking and Challenger 2 tanks.
Troops face a realistic battle challenge in the form of computer-controlled, remote activated targetry. How and when these targets are displayed is programmable from a central control room or localised control towers.
The range also provides military users with an exacting target shooting challenge in the form of a four-mile (6km) full-size computerised railway network of target carriers. Based on proven railway technology, each target carrier weighs eight tonnes and can travel at any speed between one and 50 mph (80km/h).
Lt Col Christopher Donaghy, commandant of Bovington and Lulworth Training Area, said:
Lulworth offers what is, arguably, the best moving target facility in Western Europe. Our rail network allows range wardens to move up to three sets of targets independently at different speeds at the same time.
The facility is in use for around 90 per cent of training and very popular with military units, due to the training flexibility it affords.
Lulworth Ranges covers an area of countryside of around 7,500 acres (30 sq km), stretching along more than six miles (10km) of coast. Nearby beaches and footpaths across the ranges are popular visitor attractions, as Lulworth is one of the UK's most accessible coastal firing ranges - open to public access 137 days-a-year.
Over 75 per cent of the range is made up of Sites of Special Scientific Interest (SSSI) or Areas of Outstanding Natural Beauty (AONB). This environment has only survived because of limited public access and careful military stewardship of the land, provided by the MOD and Defence Training Estate.
Lt Col Donaghy added:
The training provided at Lulworth and the wider Defence Training Estate is vital in preparing troops for deployment to Afghanistan.
We pride ourselves on providing what our troops need to do their job, whilst conserving a beautiful and highly-regarded part of the English countryside which can be accessed and enjoyed by around 50,000 visitors each year.
Published 22 October 2010