Junior Ratings move into their new home at RNAS Culdrose
Junior Ratings at Royal Naval Air Station (RNAS) Culdrose have moved into their new cabins – thanks to the latest phase of the Single Living Accommodation Modernisation (SLAM) delivered by Defence Infrastructure Organisation (DIO).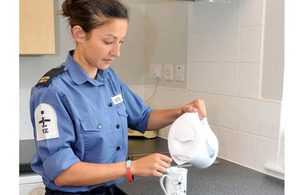 Working with its regional industry partner Debut Services Limited, DIO has completed the last of four blocks, creating some 400 rooms in a two-year build programme to provide a total of 655 bedspaces for Royal Navy personnel at the Cornish helicopter base.
The latest new block provides apartment-style en-suite living for 64 Junior Rates, with communal living, kitchen and laundry facilities. It is the initial successful delivery of the 'SLAM 2.3' phase of an on going project which started seven years ago and continues with work on cabins for an additional 154 Senior Rates and 100 junior officers.
When the project completes in summer next year, single personnel at RNAS Culdrose will have benefited from the delivery of three phases of three and four-storey blocks accommodating more than 950 military personnel.
Speaking about her new cabin, Naval Airwoman Kadie Mather said:
The rooms are really good and the facilities are a big improvement. Being able to have your own room and your own space to go back to after work is a lot better.
The new block has been built under Project SLAM, which is working to improve single living accommodation for Army, Royal Navy and Royal Air Force personnel.
RNAS Culdrose Commanding Officer, Captain Toby Williamson, said:
Ensuring quality of life for our people by providing modern, functional and comfortable accommodation is a high priority. We demand a lot from our people who regularly deploy on operations from Culdrose so this improvement in living standards whilst they are preparing or on return is popular and well received.
The accommodation block has been built in line with sustainability principles and achieved the 'DREAM Excellent' rating. DREAM is the MOD equivalent of BRE Environmental Assessment Method (BREEAM) - a voluntary measurement rating for green buildings.
Howard Sims, of DIO, said:
Supporting our Armed Forces in preparing for operations is the top priority for DIO. RNAS Culdrose plays a key role in supplying highly capable helicopter squadrons which contribute to operational success. It is important that Culdrose's personnel have the best possible facilities.
This project was delivered on time and to cost and provides top quality living accommodation junior ratings at this important naval air station. The standard of the finished building and external areas is a credit to the project team.
Published 26 July 2011