Junglies receive Afghanistan medals
122 members of the Commando Helicopter Force (CHF) marched through London to Clarence House last week to receive their Afghanistan Campaign Medals.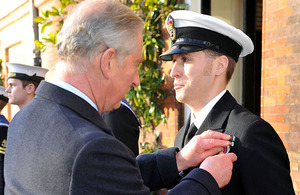 Tourists and well-wishers lined the Mall and the gates of Buckingham Palace to cheer the 'Junglies', as members of the CHF are known, along their way. On arrival at Clarence House, the servicemen women were each presented with Afghanistan Operational Service Medals by His Royal Highness The Prince of Wales.
Lieutenant Jonathan Crawford, a Mobile Air Operations Team leader, explained:
Today has been a fantastic occasion. Marching down the Mall in front of cheering and appreciative crowds was a wonderful feeling, and to be then presented with my Operational medal by Prince Charles in the garden of Clarence House, with my partner looking on, was an extremely proud moment; something I will remember forever.
Prince Charles was really interested in my experiences in [Afghanistan], and I told him that, as part of a CHF unit, I lead a small four-man team that is part of a ground troop which selects helicopter landing sites and coordinates the extraction of ground troops by helicopter.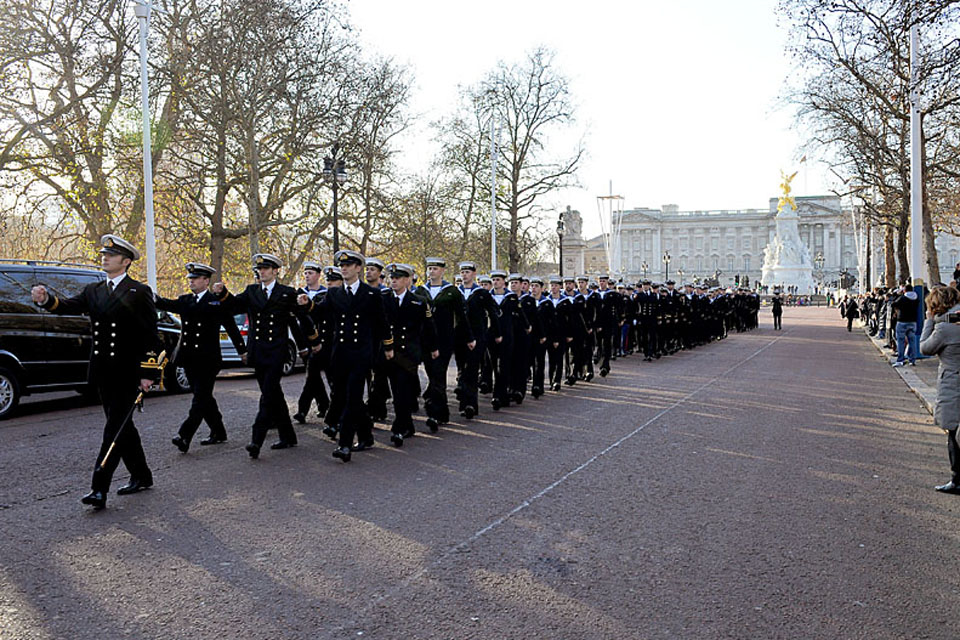 Chief Petty Officer Colin Harvey, an aircraft engineer on 845 Naval Air Squadron, was also asked about his experience in Afghanistan:
Being in charge of a large number of sailors is quite a responsibility. But we all feel a great sense of pride and achievement knowing that our efforts were keeping the aircraft serviceable 24-7," he said.
A normal day at work ranged from basic flight servicing and daily maintenance tasks, to big jobs such as double engine changes. The aircraft required considerable care due to the harsh environmental conditions and occasional bullet holes from enemy ground fire. However I was more nervous about marching down the Mall than being in Afghanistan.
This will not be the end of operations in Afghanistan for the CHF; a small contingent of Sea King helicopters remains in the country, and will be followed in the New Year by the Lynx aircraft of 847 Naval Air Squadron.
The Commanding Officer CHF, Captain Matt Briers RN, said:
Today has been a tremendous occasion for all CHF personnel and especially their families, some of which have travelled from as far as Ireland and the north of Scotland.
To see the pride and emotion in their eyes as their loved ones received their medals was very emotional. His Royal Highness has taken a great interest in what we have achieved in Afghanistan and was keen to speak to both Service personnel and their families.
Published 19 December 2011