World news story
Intellectual Platform of Introductory Research Seminar in Ekaterinburg
Julie Mayne, Acting Consul General in Ekaterinburg welcomed the participants of Intellectual Platform seminar which opened in Ekaterinburg on 23 October 2014.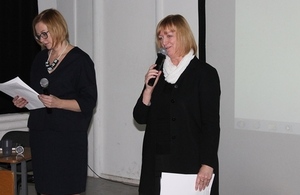 The seminar is the third of the series of events organised by National Centre for Contemporary Art in the capital of the Urals, together with the British Council and the British Consulate General.
Ural industrial international biennial is the biggest regional initiative in the field of contemporary art. It provides a new direction for regional development using art as a relevant resource. The biennial analyses cultural, social and economic specificity of the region and places it in the context of international cultural and social processes.Therefore it allows changing stereotypical perception of a traditionally industrial space and creating preconditions for development of new image of the Urals.
Sally Tallant, Director of Liverpool Biennial together with experts from Los Angeles, Tel Aviv and Moscow met in Ekaterinburg to share the biennial experience. Sally comments that there is a whole new generation in Liverpool that grew up with the Biennial, in its 8th edition, and now young people feel a total ownership and identify with it. It has become the norm for the public to discuss art objects and to have dialogues on Liverpool tendencies for continued future development.
Published 27 October 2014