News story
Judging starts on Regional Growth Fund bids
BIS has received more than 490 bids competing for a share of £950 million from round 2 of the Regional Growth Fund.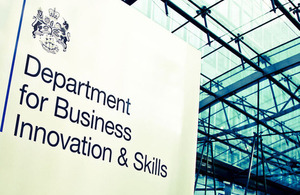 These bids were received in response to the second round of the £1.4 billion fund, which is designed to encourage enterprise, growth and jobs in the private sector and support regions that are dependent on the public sector. The bids will compete for a share of £950 million.
Further details on regional spread and total value of the bids.
The 492 bids, asking for £3.3 billion, are being assessed by the Independent Advisory Board, chaired by Lord Heseltine, over the summer. The board will then make recommendations to a board of ministers, led by Deputy Prime Minister Nick Clegg, which will make the final decisions as to which proposals should receive funding. It is expected that the successful bidders will be announced in the autumn.
There were 140 bids received for the North West - the highest of all the regions, which account for 28 per cent of all the bids received. More than 330 of the total number of bids received are bidding for between £1 million and £5 million.
The Deputy Prime Minister, Nick Clegg, said:
"This vital regional fund uses government investment and multiplies it to give a real boost to local businesses. Round one is already helping local economies across the country and has attracted £2.5 billion of private sector investment.
"This will directly create or protect over 27,000 jobs, and secure around a further 100,000 jobs on related supply chains and in local economies. We welcome the bids received for the second round, and hope we can do even more this time."
The allocation of funding each successful proposal will receive will be the minimum amount the proposal needs to get off the ground.
Each bid must also demonstrate it is bringing in private sources of funding as well. The public investment in the first 50 successful bids is expected to secure a further £2.5 billion of private investment.
Lord Heseltine said:
"We knew from the road shows there was going to be a huge amount of interest in the second round of the Regional Growth Fund, and we have been overwhelmed by the volume of bids submitted.
"There is clearly a hunger for public support which will allow new and exciting projects to deliver jobs and growth in their local communities to get off the ground, and I'm pleased to see so many people wanting to be a part of this. We now face the difficult task of assessing each of these bids; we have a busy summer ahead of us!"
Links
Published 29 July 2011