World news story
President of Iberdrola, Spain, becomes an honorary Commander of the Order of the British Empire
Her Majesty The Queen has approved the honorary award to Mr. José Ignacio Sánchez Galán, President of Iberdrola, of Commander of The Most Excellent Order of the British Empire (Civil Division), for his work to promote the British energy sector and trade relations and investment between the United Kingdom and Spain.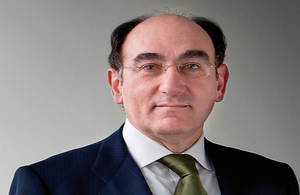 The award will be presented in due course by Her Majesty's Ambassador to Spain, Mr Simon Manley CMG.
Mr Manley said:
It is great that this award of an honorary CBE to Mr. Galán recognises the work of one of the biggest Spanish investors in the United Kingdom.
Iberdrola has played and will play a crucial role in the United Kingdom's massive investment in renewable energy, part of the broader programme of infrastructure investment which we are undertaking and which offers so many prospects for Spanish firms.
I very much look forward to conferring Ignacio Sanchez Galán with his honour.
The Order of the British Empire recognises distinguished service to the arts and sciences, public services outside the Civil Service, and work with charitable and welfare organisations of all kinds. It was created by King George V during the First World War.
Citizens from other countries may also receive an honorary award, for services rendered to the United Kingdom and its people. The Chapel of the Order is in St Paul's Cathedral in London.
Published 22 May 2014