Jools Holland appointed 101 Engineer Regiment Honorary Colonel
Musician Jools Holland has been made Honorary Colonel of 101 (City of London) Engineer Regiment (Explosive Ordnance Disposal) [EOD].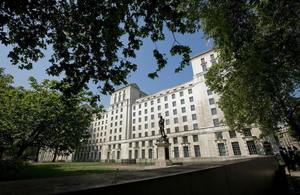 Mr Holland was invited to take on the role as a result of his close ties with Rochester, the home of one of the regiment's reserve squadrons - 221 Field Squadron (EOD).
To celebrate his new military appointment, Colonel Holland visited Carver Barracks in Wimbish to meet the soldiers of 21 Field Squadron (EOD) who are only weeks away from deploying to Afghanistan.
Whilst there he received a tour of the barracks and watched an advanced explosive device search demonstration before being put to the test himself.
He also tried on the body armour and kit the soldiers will wear on a daily basis whilst serving on Op HERRICK before presenting Long Service and Good Conduct Medals to seven of the soldiers.
85 soldiers from 21 Field Squadron will deploy on Op HERRICK over the next few weeks to form part of the EOD and Search Task Force.
Based at the forefront of the fight against deadly improvised explosive devices (IEDs) in Afghanistan, the work of the Task Force is not for the faint-hearted.
Working in teams, the Task Force provides the main capabilities of high-risk search and IED and conventional munitions disposal, plus other specialist capabilities, and is responsible for finding and disposing of all IEDs and explosive ordnance that poses a risk to ground forces in Helmand province.
21 Field Squadron will contribute personnel to the search teams that are out on the ground in Helmand province every day of the year searching for IEDs which are then removed or destroyed by EOD operators.
Colonel Holland said:
I cannot stress how impressed I am with the incredible skill levels of all the people here; how they have both a positive attitude and incredible level of concentration and observation that the training they have had has given them. It is a privilege and an honour to be part of it today.
The Commanding Officer of 101 Engineer Regiment, Lieutenant Colonel Simon Stockley, said:
All the soldiers were pleased to welcome Colonel Jools to the barracks. The whole regiment is thrilled that he has accepted the role of Honorary Colonel and it was a real boost for the soldiers of 21 Squadron to meet him. They all appreciated the time he had taken to visit them and wish them well.
He continued:
The search role demands the highest standards of professionalism, dedication and skill. Our soldiers are honest, bright, motivated people who have been supremely well-prepared for what lies ahead. On behalf of the regiment, we wish 21 Field Squadron (EOD) a safe and speedy tour and look forward to welcoming them home soon.
101 (City of London) Engineer Regiment (EOD) comprises three regular bomb disposal squadrons: 22 HQ & Support Squadron (EOD), 17 Field Squadron (EOD) and 21 Field Squadron (EOD), and two reserve squadrons: 221 Field Squadron (EOD) based at Catford and Rochester, and 579 Field Squadron (EOD) based at Tunbridge Wells, Reigate and Brighton.
Published 23 August 2012