World news story
Vacancy: Projects Manager
This was published under the 2010 to 2015 Conservative and Liberal Democrat coalition government
British Embassy invites applications for the position of a Projects Manager.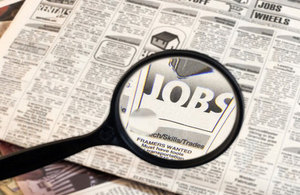 The British Embassy invites applications for the position of a Projects Manager. This is a key position delivering a range of Embassy project work, including our main fund: the Arab Partnership Programme Fund. We are looking for a dynamic self-starter who has experience of running programmes with a range of actors and who can build strong working relationships with Ministries, International Financial Institutions, other Embassies and NGOs. We are interested in applications from candidates who have the energy to kick-start new initiatives and deliver high impact projects. This position will be for a limited period starting the 20 May 2015 until 31 March 2016.
Candidates must have:
High standard of spoken and written English (IELTS score of at least 7 or equivalent)
Bilingual level of spoken and written French
Experience of managing a portfolio of projects
Working knowledge of Microsoft applications
Ability to work as part of a team and independently.
The following are desirable but not essential:
Bilingual level of written and spoken Arabic
Experience of working with civil society and international institutions
Monitoring and Evaluation experience
The Projects Manager's duties and responsibilities will include:
Management, monitoring and evaluation of projects
Developing contacts with key partners and civil society
Attending activities and drafting reports
Drafting speeches for senior colleagues including the Ambassador
Raising the profile of projects' work through compiling an internal newsletter and articles for the Embassy's website
Finalising the projects' section contact database
Assisting with visits when needed
The key competences for this job, which will be tested at interview, will be:
Setting direction: seeing the big picture and making effective decisions
Engaging people: leading and communicating and collaborating and partnering
Delivering results: delivering value for money and managing a quality service
The starting salary for this job will be DH 20,338 per month gross.
A covering letter, CV and references should be sent to recruitment.morocco@fco.gov.uk
The deadline for receipt of applications is close of play on Monday 4 May 2015. Shortlisted applicants will be contacted soon after this date to arrange the next stage of the selection process.
The appointment is subject to satisfactory completion of a probationary period of three months. The British Embassy is an equal opportunities employer. Our officers are recruited on merit through fair and open competition. We seek our strength through diversity and appoint suitably qualified individuals regardless of ethnicity, religion, sexual orientation, gender, social background age or disability.