Joint Support Chain Services wins at the Chartered Institute of Purchasing and Supply Awards 2010
A MOD team has won 'Best People Development Initiative' at the Chartered Institute of Purchasing and Supply (CIPS) Awards.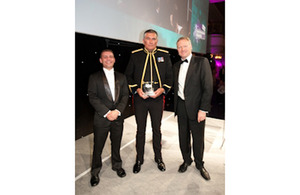 They beat industry leaders including AstraZeneca, LG Electronics, Napp Pharmaceuticals, NATS and Network Rail for the top award.
Judges were looking for innovative training and development initiatives that have helped to deliver real improvements in performance.
Operation ANVIL is the only initiative of its kind within defence that involves deploying fully trained civil servants to operational theatres to assist in specific tasks to improve the reverse supply chain efficiencies.
Chief Operating Officer Neil Rixon says:
I am extremely proud that JSC Services and the Operation ANVIL initiative has been recognised at these prestigious industry awards in front of industry and supply chain specialists.
"JSC Services has now been identified by the commercial sector as delivering outstanding development and performance within logistics and the supply chain."
Since its inception the initiative has brought considerable benefit in terms of financial savings including £12.7m for the MOD, £5.3m in transport costs, £0.6m in packaging and £700,000 from 28,000 man hours saved in theatre and £1.5m.
By utilising their skills and knowledge the team were integral in allowing the main British military base in Iraq to close five weeks early, which saved an additional £4m.
Published 10 September 2010