Press release
Joint Statement of the Sixth UK-Kuwait Joint Steering Group
Further steps on important UK-Kuwait cooperation for the next six months agreed at the latest Joint Steering Group meeting on 9-10 June.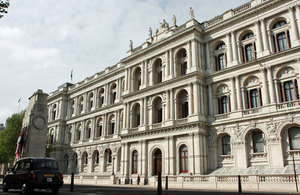 The statement reads:
The sixth meeting of the biannual UK-Kuwait Joint Steering Group took place in London on 9-10 June 2015, co-chaired by the UK's Minister for the Middle East, Tobias Ellwood, and Kuwait's Undersecretary of the Ministry of Foreign Affairs, Ambassador Khaled Al-Jarallah.
Ministers agreed to further strengthen cooperation in energy, trade, migration, security, healthcare, education and defence. The main areas of progress since the last Joint Steering Group were welcomed, and discussion on key topics for collaboration over the next six months underlined the strength of the bilateral relationship between the UK and Kuwait. The two co-chairs signed an action plan for the next six months, [and a Memorandum of Understanding on cooperation in culture and arts.
The chairs welcomed the reintroduction of an energy discussion and were pleased that work on energy investment and research and technology development would be taken forward jointly. Both sides highlighted the continued close military links between the two countries, and agreed a mechanism for Kuwait to benefit further from British defence training, equipment and technology. The trade and investment discussion pushed forward cooperation on intellectual property rights, budget reform and the new Kuwait British Business Centre.
Work on increasing cooperation in migration information, biometric data and visas were the key areas of progress in the migration discussion, and on security both sides looked at future training opportunities. The chairs noted the importance of continued work in culture and education, with a focus on research collaboration, training, and Quality Assurance. Both sides agreed on the importance of developing cooperation on healthcare, discussing progress on infrastructure and research cooperation.
Underlining the depth and breadth of the Kuwait – UK relationship and the importance of the Joint Steering Group meetings, Minister Ellwood and His Excellency Undersecretary Al-Jarallah concluded the meeting with the signature of a formal action plan for the next six months.
Further information
Published 10 June 2015