World news story
Joint exercise between UK and Albanian armed forces
The UK and Albania enjoy a growing and very positive military engagement.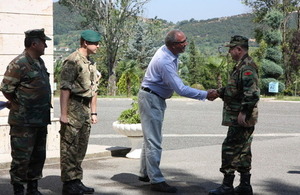 On Tuesday 17th June, British Deputy Head of Mission, Steve Hickling, and the Albanian Chief of Defence, Major General Gjunkshi visited joint training exercises of troops of 42 Commando Royal Marines and the Albanian Special Forces Battalion. The exercise is part of the annual Black Eagle joint exercise between UK and Albanian armed forces.
In sweltering heat, Steve Hickling commended to the UK Marines and Albanian Special Forces the excellent links between the Albanian and British Armed Forces as an example of practical bilateral cooperation between NATO allies. The Albanian Chief of General Staff considered the joint exercise with the British troops as significant for the training of the Albanian Special Forces, who have undertaken successful deployments in Afghanistan in recent years.
The exercise took place over a number of weeks at the Albanian Special Forces base to the north of Tirana, using specially built facilities and ranges to simulate operations in urban environments. The Royal Marines were also able to benefit from training in Albania's rugged and beautiful scenery, offering opportunities that are becoming increasingly rare on NATOs often crowded and restricted training ranges.
The Black Eagle joint exercise has resulted in improved interoperability between Albanian and British forces, and has helped to cement growing friendships between members of the Albanian Special Forces and the Royal Marines. Servicemen from the UK and Albania commented on the usefulness of the exercise in enabling the services to share values and ideas for the mutual benefit of both. It is likely that Black Eagle will become an annual fixture.
The UK and Albania enjoy a growing and very positive military engagement including numerous bilateral training initiatives, annual large scale naval and amphibious exercises, and high level military visits. UK forces are benefitting from the use of excellent training ranges with their Albanian colleagues. UK forces are continuing to explore future opportunities to train alongside Albanian counterparts across a range of capabilities.
Published 25 June 2013