Joint Communiqué between the UK and Chile
Foreign Secretary William Hague and Chilean Foreign Minister Alfredo Moreno restated their commitment to work together on a wide range of bilateral, regional and international issues.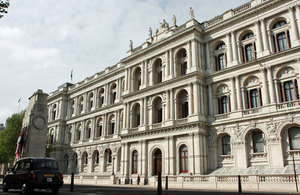 In a joint communique, the Foreign Ministers said:
On the occasion of the official visit of His Excellency President Sebastian Piñera to the United Kingdom, high level political talks took place between Mr Alfredo Moreno, Minister of Foreign Affairs for the Republic of Chile and the Rt Hon William Hague MP, Secretary of State for Foreign and Commonwealth Affairs of the United Kingdom of Great Britain and Northern Ireland.
United by close historical, political, commercial, economic and military links, by common democratic values and a commitment to open society, free markets and the rule of law, the United Kingdom and Chile restated their commitment to work together on a wide range of bilateral, regional and international issues.
**Environment and Energy
**We will strengthen cooperation in renewable and non conventional energies through investment and technological exchange. We are committed to green growth and to securing a positive outcome at the 16th Conference of the Parties to the UN Framework Convention of Climate Change in Cancun later this year. The United Kingdom welcomed Chile's inclusion of its 2020 20% emissions target in the Copenhagen Agreement Annex.
Trade and Investment
We will increase commercial exchange and investment in all areas and increase co-operation in infrastructure, energy, defence and technology. The United Kingdom reiterated its desire to play a strong role in Chile's post-earthquake reconstruction.
Education
Increasing numbers of Chilean students choose to come to the United Kingdom to carry out their post graduate studies, with help from the programme 'Becas Chile'.?
We agreed that British expertise in training teachers of English as a foreign language can play a key role in achieving President Piñera's stated aim of improving English language provision in Chile. The British Council can play a significant role in this.
We agreed to strengthen contacts between our education ministries and universities. We will seek ways to facilitate the flow of students and academics between our countries.
International Peace and Security
The United Kingdom and Chile emphasised their common approach to a number of relevant international peace and security issues. Both parties recognised the importance of their shared values in this regard.
European Union
We discussed the opportunities Chile's 2011 Presidency of the Rio Group - EU and of the 2012 EU - LAC groupings offered for close cooperation.
The United Kingdom expressed its support for Chile to expand its exchange with the European Union through the 'Evolving Clause' contained in the EU -Chile Association Agreement. The United Kingdom also expressed its support for Chile to negotiate an 'Open Skies' agreement with the European Union.
Both sides expressed their satisfaction with progress made to allow the European Investment Bank to operate in Chile.
In addition, both sides welcomed the intention of the Rt Hon William Hague MP, Secretary of State, to visit Chile next year.
Published 18 October 2010