News story
Joint Bahrain-UK Statement on Inaugural Meeting of Joint Working Group
During his visit to Bahrain, FCO Minister Alistair Burt took part in the inaugural meeting of the UK-Bahrain Joint Working Group.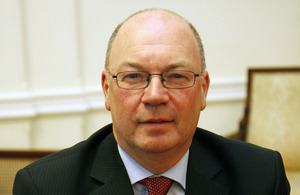 After the meeting, Alastair Burt and Sheikh Khalid bin Ahmed Al Khalifa released the following statement:
His Excellency Sheikh Khalid bin Ahmed bin Mohammed Al Khalifa, Minister of Foreign Affairs for Bahrain, today hosted the inaugural meeting of the Bahrain-UK Joint Working Group, welcoming to Manama Mr Alistair Burt MP, British Foreign Office Minister for the Middle East and North Africa.
Underlining the close and open relationship between Bahrain and the UK, Sheikh Khalid bin Ahmed bin Mohammed Al Khalifa and Mr Burt, together with ministers and senior officials from several Bahraini ministries, discussed a wide range of bilateral and regional issues, including cooperation on key trade and investment opportunities. Co-operation and assistance on security and counter-terrorism also featured, as did Bahrain's reform programme, including UK support on the implementation of the recommendations of the Bahrain Independent Commission of Inquiry Report and UN Human Rights Council Universal Periodic Review. Officials from both governments will work together, monitoring and evaluating areas of co-operation and assistance, between now and the next meeting, expected within six months.
Published 11 March 2013