World news story
Join UKinSouthAfrica for a Twitter Q&A to mark Commonwealth Day
Follow @UKinSouthAfrica for the online discussion using #CommonwealthInAfrica on 9 March between 08:00 – 09:00 GMT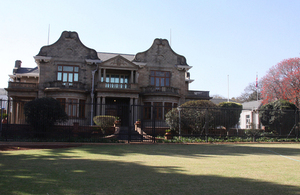 Commonwealth Day this year will be celebrated on 9 March and this year's theme is 'Young Commonwealth'. We are marking Commonwealth Day by hosting a Twitter Q&A on what it means to be a young person in the Commonwealth today where over 60% of the Commonwealth's citizens are under 30 years of age.
Follow @UKinSouthAfrica and join the online discussion using the hashtag #CommonwealthInAfrica on 9 March between 10:00 – 11:00 (08:00 – 09:00 GMT) to promote this year's Commonwealth Day theme. Engage with our South African Queens Young Leaders on what it means to be a young person in the Commonwealth today. Ask questions, post pictures or facts and feed in comments about what the Commonwealth means to you as a young person particularly living in Africa.
Commonwealth Day is celebrated across the Commonwealth by young people, schools, communities and civil society organisations on the second Monday in March every year. It provides an opportunity to promote understanding on global issues, international co-operation and the work of Commonwealth organisations.
A Young Commonwealth recognises the capacity, contribution and potential of young people, who play a vital role at the heart of sustainable development and democracy," said Commonwealth Secretary-General Kamalesh Sharma.

The Commonwealth is also a family of dynamic countries at the forefront of innovation, growth and contributing global value. As a diverse and increasingly connected global network, we bring fresh perspectives and new ideas.
We look forward to seeing you online through the Twittersphere on 9 March at 10:00.
Published 3 March 2015