John Nash appointed as new Education Minister
Details of the appointment of Lord Nash as Parliamentary Under-Secretary of State for Schools.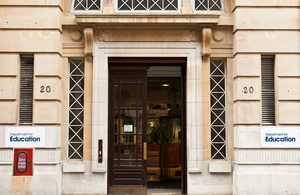 The Department for Education has today announced that John Nash will join as the new minister in the Lords following the departure of Lord Hill.
John will be Parliamentary Under-Secretary of State for Schools. John is the lead non-executive director at the Department for Education and has been a non-executive director for more than 2 years. He has worked increasingly closely with ministers and officials on all aspects of the department's work, particularly the recently announced department restructuring.
After 30 years in venture capital, John has focused his activities in recent years on education. In 2006 he set up the charity Future to support young people through supporting a number of other small charities and through the sponsorship of academies.
Pimlico Academy has been sponsored by Future since September 2008, the school having previously been in special measures. In 2010 Pimlico Academy was awarded an outstanding Ofsted rating (in a record time). Future also sponsors Millbank Primary Academy (rated outstanding by Ofsted) and has recently announced the opening of Pimlico Primary in September 2013.
John will be stepping away from all relevant business interests while he is serving as a minister, and he and the Permanent Secretary of the department are putting in place arrangements to ensure that no conflict arises between his ministerial duties and his charitable interests.
Commenting on the announcement, Michael Gove, Secretary of State for Education, said:
I'm delighted that John has joined the education team. He has vast knowledge of the education sector and is the best person to drive through reform started by Lord Hill and continue to raise standards.
Jonathan Hill has been a fantastic minister whose energy and passion has ensured that the academies and free schools policy has been a great success. I am hugely in his debt for the work he has done since the Coalition was formed.
John Nash said:
I have greatly enjoyed working in my capacity as a non-executive director with ministers and officials in the Department for Education over the past 2 years.The Department is full of highly talented people and I greatly look forward to working even more closely with them. I believe that every child and young person should have the right to a really good education and that education is the key to the future success of our country.
John is a former chairman of the British Venture Capital Association. He is a foundation fellow of Corpus Christi College, Oxford and a member of its Investment and Development Committees. John will not be taking a ministerial salary.
DfE enquiries
Central newsdesk - for journalists 020 7783 8300
General enquiries - for members of the public 0370 000 2288
Published 10 January 2013