Press release
Joe Harley CBE appointed Chief Information Officer for the UK Government
From 1 February 2011, Joe Harley CBE will assume the position of Chief Information Officer for the UK government.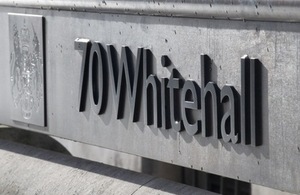 The Cabinet Office today announced that from 1 February 2011, Joe Harley CBE will assume the position of Chief Information Officer (CIO) for the UK government, in addition to his CIO and Director General responsibilities at the Department for Work and Pensions (DWP).
In this cross-government capacity, he will chair the public sector-wide CIO Council and participate in all new CIO appointments in central government, reporting to the Minister for the Cabinet Office, Francis Maude, and the government's Chief Operating Officer, Ian Watmore. Bill McCluggage will continue as the Deputy Chief Information Officer, based in the Cabinet Office, reporting directly to Joe.
Joe Harley will be able to call upon a dedicated team in the Cabinet Office to implement the government's Information and Communications Technology (ICT) agenda for data centre, network, software and asset consolidation and the shift towards cloud computing. This will realise financial savings, increase flexibility and reduce development timescales and risk. He will work closely with Chris Chant, the government's digital director, and also be able to call upon the commercial, procurement and programme management capabilities in the Cabinet Office to improve the delivery and cost effectiveness of government ICT projects.
In addition the Cabinet Office will recruit a Director of ICT Futures, also reporting to the Chief Information Office. This role will be responsible for implementing new ways of designing and developing systems using agile methods and skunkworks environments; increasing the drive towards open standards and open source software; change the terrain for SMEs to enter the government marketplace; and maintain a horizon scan of future technologies and methods. Ian Watmore will remain the Senior Information Risk Officer for government.
The Minister for the Cabinet Office, Francis Maude, said:
Joe is one of the most successful CIOs from the private sector and for the past six years has been superb in his DWP role. I am delighted to be able to call upon him to serve the Coalition in this way and look forward to working with him to deliver significant efficiencies and public service reform, as well as radically changing the way government utilises information, communication and digital technologies.
The Secretary of State for DWP, Iain Duncan Smith said:
I am pleased that, with Joe as its Chief Information Officer, the whole of government will benefit from his exceptional strengths and experience.  I welcome the fact that Joe will be able to draw upon the considerable ICT expertise that exists in Government as he leads the programme which will deliver Universal Credit IT.
Joe Harley said:
I am delighted and privileged to be taking on the government CIO role. I believe we have a great opportunity to make a difference by transforming our ICT services to radically change the way we do business across government and deliver public sector reform.
CAB 107-11
Published 31 January 2011