Press release
Jobseekers to start signing new Claimant Commitment today
New jobseekers will have to account more clearly for their efforts to find work to get their benefit.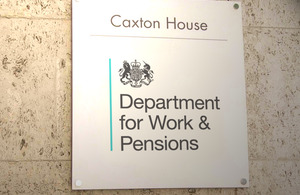 Starting today (14 October 2013), new jobseekers will have to account more clearly for their efforts to find work in order to receive their benefit.
New claimants to Jobseeker's Allowance will now need to sign a Claimant Commitment which sets out more fully what they need to do in order to receive state support – building on current support and providing clear information about the consequences of failing to meet requirements.
Work coaches will help claimants set out a detailed statement of what they will do to find work using a new personal work plan. Claimants will also use the plan to record what they have done. They will renew their Claimant Commitment on a regular basis.
Claimants will have to provide evidence to prove they have met the requirements in their Claimant Commitment. Those who fail to do so without good reason risk losing their benefits.
Employment Minister Esther McVey said:
The Claimant Commitment marks the start of a redefinition of the relationship between the welfare state and claimants. In return for state support, we expect claimants to do all they can to meet their responsibilities to return to work.

It also strengthens the ability of Jobcentre Plus staff to support claimants back into work at the earliest opportunity. Work coaches and jobseekers will agree regular specific tasks and training opportunities and the penalties claimants could face for failing to meet their responsibilities to get into work will be clearly spelt out.
The Claimant Commitment is being introduced in around 100 Jobcentres a month, until it is in place across the country by the spring.
A personal plan setting out what claimants will do to prepare for and find work will be based upon the discussion between the jobseeker and their work coach and will be reviewed on a regular basis.
The new commitment is an important part of the cultural transformation that Universal Credit will bring and will place a strong focus on the responsibilities that claimants must fulfill.
Other developments to support the cultural transformation ushered in by Universal Credit include:
6,000 new computers in Jobcentres across the country for claimants to look and apply for jobs online, replacing the dated job points
new activities trialled in Hammersmith Jobcentre Plus including claimants having 3 face-to-face interviews with their work coach within the first 2 weeks of their Universal Credit claim – this will enable their work coach to assess that claimants are completing up to 35 hours of positive job-seeking activity each week
between now and the spring, 25,000 Jobcentre Plus advisers will receive additional training to deliver the Claimant Commitment
we are on course to meet our commitment to roll out Universal Credit to a further 6 sites between October and spring 2014, starting with Hammersmith this month
More information
Rugby and Inverness will be the first Jobcentres to put the Claimant Commitment into practice for new claimants of Jobseeker's Allowance – starting this week with national roll out completed by spring 2014.
The Universal Credit Claimant Commitment has been successfully trialled since April this year – as a part of the early running of Universal Credit in the Manchester area.
Universal Credit replaces income-based Jobseeker's Allowance, income-related Employment and Support Allowance, Income Support, Working Tax Credit, Child Tax Credit and Housing Benefit – and will be rolled out nationally by 2017.
For Jobseeker's Allowance claimants, work coaches and claimants will agree a Claimant Commitment, based on their individual circumstances, which will clearly set out the jobseeker's responsibilities to find work.
Press Office
Caxton House
Tothill Street
London
SW1H 9NA
London Press Office (national media and London area enquiries only – not questions about personal claims) 020 3267 5144
Out-of-hours (journalists only) 076 59 108 883
England and Wales (local media enquiries) 029 20 586 then 097 or 098 or 099
Scotland (local media enquiries) 0131 310 1122
Media enquiries for this press release – 0203 267 5111
Follow us on Twitter – www.twitter.com/dwppressoffice
Published 14 October 2013