Jobseekers required to use Universal Jobmatch
Jobseekers Allowance claimants can now be required to look for work using the government's new Universal Jobmatch website.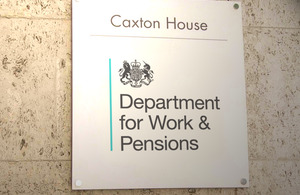 Jobseekers Allowance claimants can now be required to look for work using the government's new Universal Jobmatch website, or risk losing their benefit.
Universal Jobmatch revolutionises the process of looking for work by automatically matching jobseekers to jobs based on their skills and CV. Because the service is operational 24/7 jobseekers' CVs are working for them - even when they're asleep.
Jobseekers have been quick to recognise the benefits and embrace the service, with almost two million already registered.
The speed and convenience of the service, which jobseekers can access from their own homes, means that those who are serious about finding a job are better enabled to take control of their lives. The service is currently seeing an average of six million daily job searches, which is double the number carried out under the previous system.
Until now its use has been entirely voluntary, but it has now been made possible for advisers to require Jobseekers Allowance claimants to use it where appropriate. Advisers will take into account the jobseekers' circumstances and whether they have access to the internet. If a jobseeker refuses to use it without good reason, the adviser will be able to recommend they lose their benefits.
Where possible, those who do not have internet access in their own homes will be able to access Universal Jobmatch in their Jobcentre.
Minister for Employment, Mark Hoban, said:
Jobseekers who are serious about looking for work will get all the support they need from us. But in return for receiving Jobseekers Allowance they must prove they are doing everything they can to find a job.

Universal Jobmatch has already proved a big success in getting people get off benefits and into work, and people are flocking to use it.

If someone refuses to use a service that already has 460,000 employers posting jobs, you have to ask why - which is why we are now saying claimants must use it.
Notes to Editors:
Universal Jobmatch was launched last year.
It is open to all jobseekers, regardless of whether or not they are claiming a benefit.
The service is free to use for employers as well as jobseekers. More than 460,000 employers have already registered to use it.
All the data that jobseekers and employers enter onto Universal Jobmatch will be covered under the Data Protection Act.
The website was designed using technology developed by Monster.com
From March 1 Jobcentre advisers can require Jobseekers Allowance claimants to use the site through a Jobseeker Direction. If they refuse to comply, they can be recommended for a benefit sanction. A decision-maker takes the final decision over whether benefit should be removed.
Media enquiries: 0203 267 5137
Out of hours: 07659 108 883
Published 4 March 2013