Press release
Jobcentres go digital
High-tech equipment will be installed at more than 700 sites to make it easier for people to find work.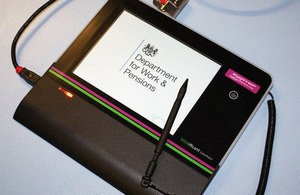 Old-fashioned 'signing-on', job cards in windows and Full Monty-style dole queues have been consigned to the past as Jobcentres across Britain undergo a digital revolution.
High-tech equipment, including specially-designed computers that bring all Jobcentre services into one device, will be installed at more than 700 sites to make it easier for people to find work.
Around 23,000 electronic signing pads will also become a new fixture at Jobcentres around the country – signalling an end to the old-fashioned paper booklets that jobseekers carry around and sign every time they visit and saving more than £1 million a year.
Minister for Employment, Esther McVey, said:
Every day, Jobcentres across the country are helping people into work, contributing to record falls in unemployment.

But as the economy grows and the jobs market changes, so are Jobcentres. Long gone are the Full Monty days of job cards in the windows and queuing for your dole.

We're seeing record employment levels – and with this digital revolution, the government is doing even more to help people into work.
Claimants will soon be signing on using electronic pads in a move that will help to improve security, reduce fraud in the welfare system and make the jobseeking process paperless.
At the same time, free wi-fi and 6,000 digital jobsearch computers will be installed at Jobcentre Plus sites across Britain to give claimants a new opportunity to search and apply for jobs online, using the equipment on site or their own devices.
They will also be able to use the computers to keep on top on their claims, calculate benefits and update their CVs.
Removing the standalone jobpoints, which have been a fixture of Jobcentres for 2 decades, and installing the new computers, will save more than £2 million a year.
The new equipment has already been installed in a number of Jobcentres across the country.
The electronic pads will be appearing in Jobcentres from this month – with rollout set to be completed by spring next year.
New tech coaches will also be on hand to help jobseekers get the most out of the new technology.
Contact Press Office
Media enquiries for this press release – 0203 267 5122
Press Office
Caxton House
Tothill Street
London
SW1H 9NA
London Press Office (national media and London area enquiries only – not questions about personal claims) 020 3267 5144
Out-of-hours (journalists only) 076 59 108 883
England and Wales (local media enquiries) 029 20 586 then 097 or 098 or 099
Scotland (local media enquiries) 0131 310 1122
Follow DWP on:
Published 24 October 2014