Press release
Jobcentre staff targeting blitz at unusual locations: taking work support direct to jobseekers
How Jobcentre staff are taking work support direct to jobseekers in unusual locations.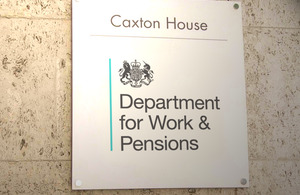 With a jobs revolution sweeping the country, Jobcentre staff are getting out and about and taking work support direct to jobseekers as part of a new blitz targeting unusual locations – from football clubs to prisons and homeless shelters.
As employment numbers reach a record 30.8 million, and the number of people on the main out-of-work benefits is the lowest for a quarter of a century, Jobcentre Plus Work Coaches – the government's army of jobs experts – are heading out to meet the public in children's centres, youth hubs, homeless shelters, and rural work clubs, to offer targeted support to people who need it most.
This more direct approach to helping jobseekers back to work has seen roaming Work Coaches partnering up with professional football clubs, including Arsenal, Everton, and Tottenham Hotspur, to set up schemes that help young people build confidence and skills to prepare them to find work.
And they are setting up shop in prisons across the country to help prisoners who are soon to leave custody prepare for a new life away from crime and in work.
New figures released last week show that an average of 1,500 more people were in work every day over the last year and the number of people on the main out-of-work benefits is down by more than 850,000 to under 4 million – the lowest it has been since 1990.
Employment Minister Esther McVey said:
Our hardworking Jobcentre Plus staff have made a huge contribution to Britain's jobs success this year. By doing things differently, and getting out to where jobseekers are, they're helping thousands into work every day.

We have broken record after record in 2014 – with huge falls in youth and long-term unemployment and the highest number of women in work on record.

This new approach is working. What we can see at the end of the year is that our welfare reforms are ensuring that people have the skills and opportunities to move into work.

But behind these record figures there are countless stories of individual hard work and determination – stories of people turning their lives around, of families who are now feeling more secure over the Christmas period with a regular wage, and of young people escaping unemployment and building a career.
Specialist Work Coaches are based in prisons across the country where they can help parolees sign up to Jobseeker's Allowance up to 6 weeks before they are released. Once they sign up, they are automatically placed on to the Work Programme to help them build up skills and experience.
The Work Programme is designed to get the hardest to help jobseekers back into work and has now helped 368,000 long-term unemployed claimants find sustainable work.
Jobcentre Plus staff have also helped budding entrepreneurs to set up more than 60,000 new businesses through the government's New Enterprise Allowance scheme, which helps jobseekers, lone parents and people on sickness benefits, with a good idea, to start up their own business.
Since 2011, more than 360,000 people of all ages have taken up opportunities through employer-led sector-based work academies, or work experience placements through Jobcentre Plus, to give them a job taster and a guaranteed job interview.
In Bootle, Merseyside, Jobcentre Plus has staff working from the local Youth Hub to provide guidance and advice to young people in the area and to offer chances to gain skills and experience through Sector-based Work Academies – which are employer-led training courses that lead to a guaranteed job interview.
And in Scotland, Stranraer Jobcentre Plus staff have established weekly work clubs in rural areas to provide help on budgeting, mock interviews, CVs and cover letters, and job applications.
Contact the Press Office
Media enquiries for this press release – 020 3267 5122
Press Office
Caxton House
Tothill Street
London
SW1H 9NA
London Press Office (national media and London area enquiries only – not questions about personal claims) 020 3267 5144
Out-of-hours (journalists only) 076 59 108 883
England and Wales (local media enquiries) 029 20 586 then 097 or 098 or 099
Scotland (local media enquiries) 0131 310 1122
Follow DWP on:
Published 26 December 2014