Press release
Jobcentre scheme creates 80,000 new businesses
More than 80,000 businesses have been set up by jobseekers through the New Enterprise Allowance.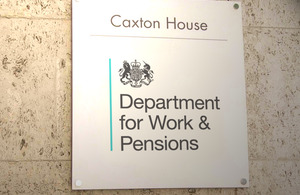 Figures released today by the Department for Work and Pensions (DWP) show 80,830 start-ups in trades like electrical installation, graphic design and jewellery-making have been launched between April 2011 and December 2015 – an average of 1,420 a month.
Of the New Enterprise Allowance (NEA) businesses set up, approximately:
30,300 (37%) were by women
19,000 (24%) were by people aged over 50
16,400 (20%) were by people with a disability
Employment Minister Priti Patel said:
The New Enterprise Allowance is one of the great success stories of this government's drive to get more people into work, as the UK's employment rate stays at a record high.

Small businesses are the engine room of the UK economy, and by helping people off benefits and to become their own boss we're enabling them to make the most of the business opportunities out there at the moment.
Of all the NEA businesses, the top 5 start-up areas were:
Liverpool (1,410)
Sheffield (1,250)
County Durham (1,180)
Birmingham (1,140)
Glasgow City (1,140)
Research with NEA participants published in January showed 80% of businesses started through the scheme were still trading at the time of the survey, with more than 90% of these still going a year after launch.
Start-up support from the NEA is available to people aged 18 and over and claiming Jobseeker's Allowance (JSA), Employment and Support Allowance (ESA), Income Support claimants who are lone parents or who are sick, and some Universal Credit claimants.
After showing their business idea is viable, NEA participants are eligible for a weekly allowance worth up to £1,274 over 26 weeks for claimants to establish their start-up.
Case study
A Swansea yachtsman was able to set sail on his business idea, thanks to the New Enterprise Allowance.
Former professional sailor Matthew Senior came up with his business idea during a stint working in Melbourne, after he sailed thousands of miles around the Australian coast and won the prestigious Hobart yacht race.
When he returned to Wales, the 43-year-old drew on his sailing experience to set up Gower Sail Shades and Awnings through the NEA, receiving business mentoring from PeoplePlus who deliver the scheme for DWP in Wales.
His enterprise uses the same technology behind the creation of ships' sails to make high quality canopies and shades.
Matthew said:
I knew the idea for using sails as awnings would work because I'd seen them while I was working in Australia – and the seed was sown.

I started out on my own but was struggling, so in September 2015, I went back on the NEA, where I was introduced to my business mentor Sheran Grey and it all kicked off from there.

What made all the difference was the business advice and extra income I was able to get from the NEA. It made me much more focused and it's great having someone like Sheran to call when I need advice.
His company now employs 2 part-time assistants and has won contracts for Costa in the Wales and west area, while its fabrics can be seen along the seafront at Aberavon Beach.
Contact Press Office
Media enquiries for this press release – 0203 267 5118
Press Office
Caxton House
Tothill Street
London
SW1H 9NA
London Press Office (national media and London area enquiries only – not questions about personal claims) 020 3267 5144
Out-of-hours (journalists only) 07623 928 975
England and Wales (local media enquiries) 029 20 586 then 097 or 098 or 099
Scotland (local media enquiries) 0131 310 1122
Follow DWP on:
Published 30 March 2016