World news story
Job vacancy: UK Trade & Investment Trade Advisor
The UK Trade & Investment team, based at the British Consulate-General Milan, is looking for a full time Trade Advisor to start in October/November.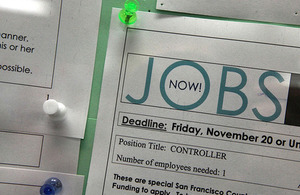 UK Trade & Investment (UKTI) is the government department that helps UK-based companies succeed in the global economy. We also help overseas companies bring their high-quality investment to the UK's dynamic economy acknowledged as Europe's best place from which to succeed in global business. UK Trade & Investment offers expertise and contacts through its extensive network of specialists in the UK, and in British embassies and other diplomatic offices around the world. We provide companies with the tools they require to be competitive on the world stage.
We are looking for a dynamic, motivated person preferably with a knowledge of energy – both traditional and/or renewables sectors, energy efficiency, environment and construction which may involve advanced engineering. The ideal candidate should also have a business background and be capable of working in an international environment, engaging confidently with senior interlocutors.
Duties and responsibilities
The role of the Trade Advisor is to understand and follow the aims and objectives of the "Britain Open for Business" strategy prepared by HQ in London and the wider policy objectives of the FCO. The Trade Advisor will have a flexible approach relating to changes in priorities and objectives, will contribute new ideas and ways of improving services. The Trade Advisor will be an integral part of the wider Italy based trade team and will be responsible for the relevant sectors on a national basis reporting directly to the Deputy Consul General and Deputy Director of Trade & Investment for Italy in Milan. He/She is expected to travel throughout Italy and to the UK and other countries as required to meet companies, accompany missions of British and Italian companies, visit exhibitions, conferences etc and attend business development visits in the UK.
The Trade Advisor is responsible for:
meeting targets set by UKTI London and Milan;
identifying opportunities for British companies in Italy;
developing and maintaining a national network of contacts in conjunction with colleagues in the Italy Network and OMIS (Overseas Market Information Service) activities commissioned by British companies which can include market research, organisation of events and visiting programmes;
participating in specialist trade exhibitions, organisation of seminars/conferences, networking lunches/receptions, exhibits at trade fairs with UKTI stand. He/She needs to build up relations with trade associations, exhibition organisers and public authorities. The Trade Advisor works closely with stakeholders both internal and external to the organisation;
direct supervision and management of a unit. He/She will be a results driven individual encouraging high levels of performance in order to deliver targets;
providing regular written reports on activities and recording data on a CDMS system.
Key skills and competences required
The ideal candidate should have the following skills:
good knowledge of industry and business issues in both UK and Italy;
some past experience of energy issues (including energy efficiency, renewables and traditional energy sources) as well as construction (including advanced engineering) would be an asset;
fluency in Italian and English (both written and oral);
ability to work within a team;
good communication and influencing skills;
good IT skills and knowledge of the Microsoft Office package;
ability to deal efficiently with a wide range of external contacts;
ability to deliver results and be able to maintain own and office databases on CDMS and work within allocated budgets;
ability to apply strategic awareness in business planning.
Terms and Conditions
the position is at C4(L) level. The grades for locally engaged staff are D6(L), C5(L), C4(L), B3(L), A2(L), A1(L), S3, S2, S1, [D6(L) being the highest];
the annual gross starting salary is €40.280. Salary is paid monthly with second salary payments in December and June, giving 14 salary payments per year including €10,33 EDR paid 13 times per year;
working hours are 35 per week Monday to Friday 09:00 – 17:00. Some degree of flexibility is expected;
the job is based in Milan. The successful applicant will be expected to travel from time to time in connection with the job;
confirmation of appointment is subject to security clearance and a probationary period of four months,
income tax arrangements will depend on nationality. Income tax (IRPEF) at rates set by the Italian Government is withheld from gross salary;
the successful candidate will be enrolled in the Italian State Social Security scheme (INPS);
terminal gratuity payments (TFR) are made in line with the relevant Italian legislation;
staff recruited locally by the British Consulate-General Milan are subject to Terms and Conditions of Service which are set in according with Italian employment law.
Applications
applications (in English for native Italian speakers, in Italian for native English speakers) should be sent by 30 Sept 2013 to the following email address ItalyJobAds@fco.gov.uk. Please note that it is essential to quote "Trade Advisor" and your "surname" in the subject line. The application should include a covering letter, an up-to-date CV and a one page A4 not to be exceeded describing how you would grow Trade & Investment between Italy and the UK with specific reference to the sectors mentioned in the job description;
applications received beyond this date will not be considered and acknowledgements will be sent to short-listed candidates only.
interviews will be held in Milan during the week beginning 7 October 2013. Candidates may be asked to take a written test as part of the interview and/or a test of computer skills.
The FCO and its Embassies overseas is an equal opportunities employer and welcomes applications from all suitably qualified people regardless of gender, marital status, race, disability, age or sexual orientation.
Published 17 September 2013