Press release
Britain open for business
Further support to help British companies compete on the global stage, and new Chief Executive announced for UKTI.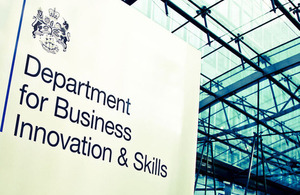 Business Secretary Vince Cable, Foreign Secretary William Hague and Trade and Investment Minister Lord Green today (10 Nay 2011) launched a new cross-government focus on trade and investment, launching UKTI's new 5 year Strategy, and the FCO's Charter for Business.
They also announced the appointment of Nick Baird as new Chief Executive of UK Trade & Investment.
In accepting the appointment, Nick Baird said:
The launch of the new strategy for UK Trade and Investments makes this an exciting time for me to be taking up this role.

This strategy will place the nation's commercial interests at the heart of its foreign policy and I hope to lead this organisation in successfully delivering this aim.
Nick Baird will join UKTI later this year. The appointment is for 3 years.
Five year strategy
The UK Trade and Investment (UKTI) Strategy and the Foreign and Commonwealth Office (FCO) 7-point Charter demonstrate the government's dedication to supporting international business, championing UK business overseas and attracting investors to the country.
The UKTI Strategy is a 5 year plan that will see it adopt a more entrepreneurial approach to deliver growth. It lays out 4 pathways to balanced growth:
Targeting services at innovative and high growth SMEs to encourage more companies to export, and help existing exporters reach more high growth and emerging markets.
Winning high value opportunities in overseas markets for UK businesses of all sizes.
Delivering high quality inward investment, with a drive to market large British infrastructure and regeneration projects to foreign investors.
Building strategic relationships at the highest levels with the most significant inward investors and with the UK's top exporters and major overseas buyers.
Read BIS's International Trade and Investment - the Economic Rationale for Government Support. (PDF, 1.5 Mb)
The strategy and the FCO's Charter form a central part of the government's Plan for Growth, and recognise the fact that a new focus on business is needed if the UK is to remain economically competitive in the years to come.
Trade and Investment for Growth, a White Paper published in February, set out the government's plans to rebalance the economy through trade and investment. UKTI's Strategy and FCO's Charter are the next step in this process.
The government is now looking in more detail at how it works with businesses, especially small and medium-sized enterprises (SMEs), and what action can be taken to make this more effective.
Nick Baird appointed as new Chief Executive for UK Trade & Investment
Currently Director-General Europe and Globalisation at the Foreign Office, Nick Baird has also worked as the Ambassador to Turkey and has extensive experience of working with both the European Union and emerging markets.
Welcoming Nick Baird into his new role, Business Secretary Vince Cable said:
This government is committed to ensuring that trade and investment plays a key role in delivering our plan for growth. We want to ensure UK businesses of all sizes bring their expertise to the world and take advantage of key overseas markets, particularly the emerging economies.

I am delighted that Nick Baird has joined UK Trade & Investment, his knowledge of the emerging markets will be fundamental to driving forward this trade mission.
Links
Published 10 May 2011