World news story
Job Vacancy: British Embassy Tashkent
We are looking for an experienced Corporate Services Manager to lead the Corporate Services team at a time of significant change.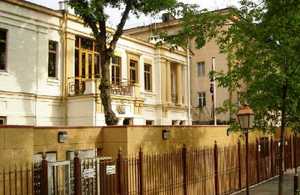 This is a busy and demanding role, where the successful candidate will be responsible for ensuring the team deliver effective management, finance, procurement, human resources and estate services to a high standard to the whole Embassy.
The Corporate Services Manager will report directly to the Deputy Head of Mission and Ambassador and will serve as a key member of the senior management team, also working with policy makers in the region and London to implement new regional initiatives.
The successful candidate will ideally have a minimum of three years experience in a managerial capacity, with a sound knowledge of finance, budgets and human resources. A university degree in a related discipline is also preferable. The Corporate Services Manager should have excellent interpersonal and communication skills and be able to demonstrate a strong track record in delivering services to a range of internal and external customers. The successful candidate will also be resilient under pressure and be able to work flexibly as part of the wider Embassy team.
Applicants should also have excellent written and spoken English language skills with a strong knowledge of IT packages such as Microsoft Word, Excel and ideally Oracle systems and databases. Key competences required for the job:
managing and developing staff
delivering results
problem solving and judgement
working with others
communicating and influencing
strategic awareness
The interview process will consist of a competency based interview and a written exercise. Interviews will take place in Tashkent on 17 and 18 June 2013. The successful candidate will be expected to take up the position in early July 2013.
If you are interested in applying for this position, please send your letter of application, CV, photo and two references to:
Daniel Barker,
Corporate Services Manager
British Embassy
67 Gulyamov
Tashkent

The closing date for applications is 7 June. Only candidates who are successful in the initial sift of applications will be contacted and invited to attend an interview.
Published 23 May 2013