World news story
Job Vacancy at the British Embassy Copenhagen
We are looking for a Trade Team Manager to lead a team of 6 professionals in further developing the strong growth of UK exports to Denmark.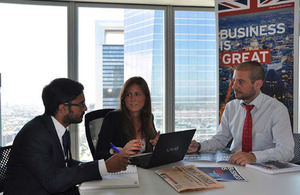 Who are we?
UK Trade & Investment (UKTI) is the British Government's trade promotion and foreign direct investment organisation. We are an integrated part of the Foreign and Commonwealth Office and a government organisation in rapid evolution where private sector integration is a key future focus.
What do we do?
UKTI Denmark assists UK companies export products and services to Denmark, the Faeroes and Greenland, as well as to support Danish companies investing in the UK. It's all about adding value to the UK economy and creating sustainable British jobs that will also have a positive knock-on effect to Denmark. While a local team, we are also part of a Nordic Baltic Network that focuses on the synergies of regional integration.
What will we expect of you?
You know your way around the UK and Danish markets with a current network that reflects this. It is not important that you have a sector specific background (although having one would help) but you are business "savvy" and knows what it takes to run a business, have a vision and the risks that are involved with international expansion. Experience of working on a Nordic level is desirable.
You are result orientated. You have a track record of achieving tough targets and can focus on the numbers as well as the overall direction of the trade team. You are absolutely at home with the customer. You can talk strategy; see the big picture and are comfortable leading on advice. Don't forget, you will not just be representing companies in the Nordics but also the British Government. You are diplomatic, skilled in listening and while you may or may not be used to working with VIPs, you understand a sense of occasion and can represent at the highest levels.
You are flexible and like the rest of the team, you can handle many tasks at the same time. It goes without saying that you work well with others and are used to the day to day management of a small team. You know how to get the best out of a team; provide direction, support and understand how to contribute to an individual's personal development.
You have the tools to cut through complexity, not just from a market point of view but also as a part of a large, public organisation. You have a broad grasp of IT and CRM systems and while English might not be your mother tongue, you speak and write it fluently. The ability to operate in Danish at a high-level is important. You are well educated and while the number of degrees you have is not a focus, your ability to structure, plan and implement is.
What do we offer?
The British Embassy offers international opportunities. We provide a chance to develop your networks and contacts both in Denmark and the Nordics in areas otherwise not normally accessible. It goes without saying that this is combined in a diverse, international environment which is fun, challenging and change-oriented.
We are an agency of the British Government and offer a competitive monthly salary based on your qualifications and experience, including good pension benefits, personal health insurance and a strong focus on training both locally and in the UK.
More information regarding the activities of UKTI
Please send your application via email to copenhagen.recruitment@fco.gov.uk. The deadline for applications is Friday 22 November 2013.
Published 1 November 2013