World news story
Job vacancy at the British Embassy Bucharest
British Embassy Bucharest is recruiting a Regional Learning and Development Manager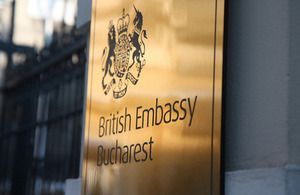 An exciting development opportunity has become available at the British Embassy in Bucharest for an experienced Regional Learning and Development Manager (RLDM) to work as part of a vibrant global team within the Foreign and Commonwealth Office (FCO). RLDM has overall regional responsibility for L&D activities in alignment with organisational priorities and the operational success of the Regional Learning and Development (L&D) Team in Europe.
The British Embassy in Bucharest is part of a world-wide network of 230 Posts, representing British political, economic and consular interests overseas.
This position is a full time 1 year fixed term C4 contract as a Regional Learning & Development Manager.
Main Duties and Responsibilities
Account Management
Business Partner with Senior Management at Posts (10 – 30) across a region, HR Best Practices (HRBPs) and thematic leads in the region to achieve business performance goals and successfully implement organisational change initiatives
Support and advise Posts with identifying appropriate learning interventions through:

Supporting the development of L&D strategies that align to Country Business Plans/ organisational objectives
Encouraging robust Learning Needs Analyses are undertaken to support the L&D strategy
Supporting Posts in establishing L&D plans that reflects relevant L&D interventions (incorporating blended learning - 70:20:10)
Supporting Posts in evaluating L&D interventions for return on investment against expected outcomes
Providing Posts with L&D/ Management consultancy support/advice

Support thematic accounts to assist them in achieving their business objectives, working with thematic leads and London Liaison Officers.
Share best practice with RLDT (Regional Learning & Development Team) Network and other Posts.
Delivery
Deliver formal training or other informal L&D interventions that meet the specific needs of staff from all Government Departments in their regions
Ensure effective prioritisation of resources between Posts and different customers including Prosperity, Consular, Department for International Development, Home Office and Visas (previously United Kingdom Border Agency) in line with overall RLDT priorities and customer needs
Design appropriate L&D Interventions for delivery by the RLDT Network
Participate, as owner and/or deliverer, in reviews of RLDT and Civil Service Learning (CSL) products
Active participation in knowledge and best practise sharing across the RLDT global network
RLDT Management/ Operational Management
The network structure is undergoing review and line management responsibilities are subject to change. To date, line management duties have included Line management of a L&D Officer B3 (L) a L&D Coordinator A2(L) and required effective performance management that supports ongoing continuous professional development in line with customer needs and RLDT strategy
Overall responsibility for an operational budget, ensuring timely and accurate monthly financial reporting and ensure that funds are not over (or under) spent at year end
Ensuring the operational success of the RLDT through process improvements where required, management of RLDT resources, schedule, and oversight of relevant projects and ensuring Quarterly Statistically Reports (QSRs) reflect the work of the RLDT accurately
Partner the host Post and ensure clarity on roles, expectations and delivery of L&D interventions.
Competencies and Skills Required
At least five years of training delivery & design experience; ideally in management or leadership development, soft skills and/or coaching within a corporate environment. Other sectors like education, vocational skills or others will be considered.
Al least 3 years of management experience in L&D field
Outstanding verbal, presentation and written skills
Excellent/native English, both oral and written
Knowledge of learning and development processes including learning needs assessment, learning evaluation and bespoke design & delivery methods
Ability to deliver effective learning through a variety of communication channels ie face to face and virtual.
Strong interpersonal skills for influencing at all levels within the organisation
Self-motivated, independent and effective team player
Ability to lead by example and foster mentoring relationships
Excellent computer skills; specifically Microsoft Word, Excel, PowerPoint, and Outlook.
This is a full-time position of 5 days (35 hours net per week) for an initial contract period of 1 year, which may be extended by mutual agreement. Working hours are flexible and staff are entitled to time-off-in-lieu for extra hours worked. The salary is EUR 1898 gross per month. In addition, staff receive meal vouchers for every day worked and are entitled to a 13th month salary pro rata. Staff also receive a monthly subscription to a private medical centre.
The annual leave entitlement is 21 days per year pro rata and the Embassy also enjoys an average of 14 Romanian/UK public holidays per year.
The successful candidate will be subject to confirmation of a background check and security clearance, and is expected to commence employment as soon after the selection process is finished as possible. You must have pre-existing work authorisation for Romania in order to apply.
To Apply
Please send your CV and job application in English by email only to Prague.Recruitment@fco.gov.uk. The application form is available on the British Embassy website, in our recruitment policy section. Complete all sections and use the 'Supporting Statement' box to explain clearly the motivation, skills and experience you could bring to this role.
The closing date for applications is 28th October 2013.
Interviews will take place in the week commencing 18 November 2013. Please note that, because of the volume of applications we receive, we will only contact you if we need you to attend an interview. If you do not hear from us till 15 November you should assume that your application has not been successful.
Please be aware that the Embassy will not be able to meet the costs connected with relocation.
The British Embassy is an equal opportunities employer. We welcome applications from suitably qualified individuals, regardless of race, gender, sexual orientation or disability. All applications are treated on merit.
Published 11 October 2013