News story
Job Opening: Political Support Officer
The British Embassy in Lima is looking for a qualified professional to join its staff as Political Support Officer. Find out more.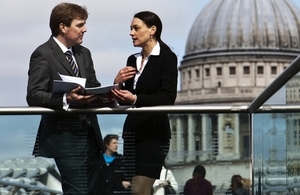 Job Opening: Political Support Officer
Main Purpose of the Job
To support the political section in its work, undertaking research and ad hoc drafting assignments as necessary.
To manage bilateral projects in conjunction with the Projects Officer.
To organise visits and other events in coordination with the Political Officer.
To oversee the Communication Team's publications in Spanish and English.
To be Personal Assistant (PA) to the Deputy Head of Mission and to cover for the Ambassador's PA when she is away.
More Details
To research certain topics of UK interest, including drugs and crime, and provide drafts for political section products.

To help manage and coordinate official visits to post and visits to London, in conjunction with the Political Officer.

To attend events and meetings on behalf of the Embassy and report back to colleagues in the Embassy and London as appropriate.

To assist in the management of our portfolio of bilateral projects, engaging with implementers, the Projects Officer and other project managers in the Embassy and London.

To be a member of Post's Programme Board, evaluating possible projects for support and leading on the drugs and crime bilateral projects strategy.

To help monitor and evaluate bilateral projects, including the completion of the quarterly financial and Overseas Development Assistance returns. To identify opportunities to apply for other ad-hoc project funds.

To assist the press team with translations from Spanish to English and English to Spanish. To sense check material for the Embassy website in both languages.

To edit and distribute weekly press summary for London readers.
To organise ad-hoc events and carry out other duties related to political and project work as required.
Skills Required
Flexible, resilient under pressure and decisive with a proven track record of delivering results to a high standard within tight deadlines.
Ability to deliver a high standard of report writing on political issues.
Strong numeracy, organisational, analytical and time management skills, with very good attention to detail.
Excellent interpersonal and communication skills;
Ability to work with contacts and colleagues at all levels.
Personal drive and the motivation to be a self-starter.
Strong IT skills.
Willingness to work additional hours as necessary.
Minimum Qualifications
A college/university level degree.
At least 3 years of experience of working in political affairs and / or project management.
Experience of working in the English language, preferably either overseas and/or for an embassy, international organisation or similar body.
A good knowledge of Peruvian politics and current affairs.
Bilingual in English and Spanish, orally and in writing.
The British Embassy offers a competitive remuneration package, including salary, benefits, a leave entitlement and training package. The starting salary for this position is S/. 4,885.
The successful candidate is expected to commence employment in mid-October 2013.
The successful candidate will be subject to confirmation of a background and security clearance. You must have pre-existing work authorisation for Peru in order to apply.
How To Apply
Please complete the application form.
Embassy Job Application Form (MS Word Document, 127KB)
Send the completed application form with your CV/resume (maximum two pages) and covering letter (one page) in English by Friday 13 September to recruitment.lima@fco.gov.uk, or mail it to: Embajada Británica. Av. José Larco 1301, piso 22, Miraflores, Lima 18.

Please mark your envelope/e-mail subject "Political Support Officer."
Only those candidates who are successful in the initial sift of applications will be contacted and invited to participate in a series of tests followed by an interview. This will include an English test.
The British Embassy is an equal opportunities employer and does not discriminate on grounds of ethnic origin, race, religious beliefs, age, disability, gender or sexual orientation.
Published 30 August 2013