Jeremy Hunt sets out plans to boost 2012 tourism legacy - an end to boring boundary signs
First steps to introduce a new type of tourist signing in England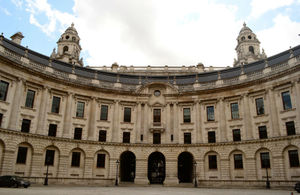 Culture Secretary Jeremy Hunt today set out plans for new county boundary signs that will showcase the region's best features. The plans are part of the Government's on-going strategy to boost the country's tourism industry on the back of the 2012 Games.
Six counties - Cornwall, Cumbria, Derbyshire, Devon, Norfolk and North Yorkshire - are to spearhead the move in a £2million pilot scheme run by the Department for Culture, Media and Sport (DCMS) and the Department for Transport (DfT).
The pilots will replace the current signs on key routes at county boundaries with ones that are colourful and striking, and could include full colour photographs of the region. The new signs will be installed in pilot areas by next Spring.
Secretary of State for Culture, Olympics, Media and Sport Jeremy Hunt said:
"The current signs greeting visitors as they travel around are dull, often boring and do little to entice tourists. We need to update them to something that is both attractive and better at selling what it great about our tourist destinations.
"The move is part of a drive by the Government to maximise the tourism benefits of hosting the 2012 Olympic and Paralympic Games. We are investing £127m, the biggest-ever national and international marketing campaign that the country has ever seen - welcoming over 4.6 m extra international tourists over the next three years, and encouraging millions more domestic holidaymakers to rediscover the delights of the Staycation.
"The new signs will give a fresher and more welcoming feel to England's regions. Counties will be able to highlight the things that make them special, whether it's cultural or heritage attractions, or an activity that is special to the area."
The new signs will be designed to meet the needs of road users and will be specially authorised by the Secretary of State for Transport.  
Further ahead, the Government wants to improve traditional tourist brown signs - to ensure that the process for allocating them is more consistent and transparent, focuses on genuine tourist attractions rather than on local services, and supports the growth agenda.
A review of the existing guidelines is currently being undertaken.
Notes to Editors
The new 'GREAT' campaign provides a co-ordinated approach for promoting the UK around the world. It focuses on everything the UK has to offer as a place to visit, study, work, invest and do business.
VisitBritain is already running a £100 million four year match-funded marketing campaign, working with commercial partners such as British Airways, Easy Jet, American Express, STA, Virgin Atlantic and Hilton Hotels to offer GREAT deals to international consumers. In addition to this VisitBritain have launched a £25 million image campaign - their biggest ever - that will be focused on 14 key economic powerhouse cities of the world where the highest concentration of the target audiences of high spending urban professional are located. It is anticipated that an audience of 90m people will be reached with this high impact outdoor advertising as well as print, TV, cinema and online (Countries are: Australia, Brazil, China USA, France, Germany, Japan, India, and Canada.  Cities are: Tokyo, Shanghai, Beijing, Los Angeles, New York, Rio de Janeiro, Sao Paolo, New Delhi, Mumbai, Paris, Toronto, Berlin, Sydney, Melbourne.
This new investment, together with the existing £100 million campaign, means that over a 4 year period inbound tourism to the UK should deliver 4.6 million visitors spending £2.3 billion and helping create almost 60,000 new job opportunities.
The tourism sector already contributes £115 billion each year to the UK economy and has the potential to be one of the fastest growing sectors in the years ahead. International tourism contributes around £18 billion and is our third largest earner of foreign exchange. The £25m image campaign has been rolled out in 14 cities in 9 countries and is highly impactful - we estimate nearly 90 million people will see our ads more than 5 times in these cities.
Press Enquiries: 020 7211 2210
Out of hours telephone pager no: 07699 751153
Public Enquiries: 020 7211 6000
Published 16 July 2012