Jeremy Browne meets British residents in Spain
Consular Minister urges British residents to get the most out of living in Spain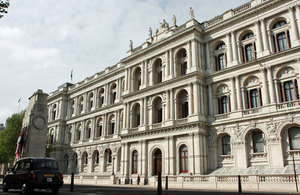 British residents can get even more out of living in Spain by taking a number of simple steps, said Consular Minister Jeremy Browne MP on a visit to Malaga today (15 June).
** Register on the Padron to gain access to social services and cash savings**
Take time to learn some Spanish, volunteer to help others
Tell visiting friends and family to take out travel insurance and avoid a potential headache
Speaking at a roadshow for British citizens, he underlined the importance of British Nationals registering on the Padron system when they become resident in Spain, saying:
'Registering on the Padron gives you access to some benefits and social care, and can mean significant savings on certain community charges and inheritance tax. Unfortunately, if you don't register, you can't expect the Spanish authorities to provide social services or other help when you may need it in the future', said Mr Browne.
Up to a million British citizens live in Spain for part or all of the year, and the experience is easier and more enjoyable if they can speak at least some of the language. 'We don't expect doctors or the police to speak Spanish in Britain, so we shouldn't necessarily expect them to speak English here in Spain', said Mr Browne. 'Learning some Spanish can go a long way in making it easier to communicate.'
Many who move to Spain find they have some spare time on their hands, and volunteering is a good way of integrating further into Spanish society and helping others. Mr Browne said: 'Volunteers working with Age Concern, the Royal British Legion and many other organisations are making a big difference to some of the most vulnerable in the British community. I am delighted that British Consulates are working in partnership with a range of charities to help those with health, financial and other problems.'
Malaga Consul Steve Jones led the roadshow at Alhaurin el Grande, where more than 100 British residents sought advice from consular staff and partners including the Royal British Legion, Age Concern Accion Social and the Pensions Benefits & Healthcare team.
Residents were also urged to encourage visiting friends and family to take out travel insurance. Many fail to do so, making themselves a burden on their hosts when things go wrong. 'Travel insurance costs about the same as a meal in a restaurant, but the bill can be far bigger when things go wrong. Ask your visitors to take out a policy, and make sure a welcome guest doesn't become an unwelcome one ', said Mr Browne.
Published 15 June 2011