News story
Japanese nuclear specialists will learn from UK expertise
Japanese nuclear industry experts have visited two of the UK's most challenging decommissioning projects to see the techniques and technologies being used first-hand.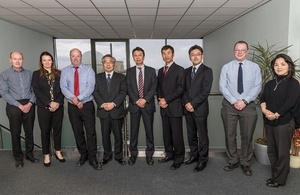 Representatives from the Japan Atomic Energy Authority (JAEA) visited Dounreay and Sellafield to learn more about the nuclear decommissioning and hazard reduction programmes, and to find out if the UK's nuclear innovation could be used at sites in Japan.
Dounreay – in Caithness, Scotland – is the former centre of fast reactor research and development, and is one of the UK's most complex nuclear decommissioning projects.
Sellafield, which has been at the forefront of the UK's nuclear industry for several decades, is now making significant progress in cleaning up the legacy from the earliest days of nuclear.
Dr Adrian Simper, the NDA's Strategy and Technology Director, said:
These visits are an important part of the work being done by the Nuclear Decommissioning Authority (NDA), its subsidiary International Nuclear Services, and the Department for International Trade to highlight the UK's nuclear decommissioning expertise to overseas customers.
The work being done on the NDA sites is pioneering the way nuclear facilities are decommissioned all over the world and showcases the unique expertise that is on offer within the UK's nuclear supply chain.
Cockermouth-based Createc has recently won a Queen's Award for Enterprise for its work on nuclear decommissioning projects in Japan and the United States. Createc produced radiation mapping equipment, developed for use at Sellafield, which has gone on to be used in the damaged Fukushima reactor.
Published 10 May 2018