News story
Japan travel advice explained
Your questions on our UK consular effort in Japan answered.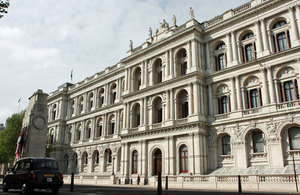 Why are you not getting British Nationals out of Japan like other countries such as France?
We are currently advising against all non-essential travel to North East Japan and Tokyo. This advice is in line with the a number of other countries, including the US and Canada. It is kept under constant review and informed by the best scientific advice. The Chief Scientific Adviser made it very clear that the Japanese Government's exclusion zone is proportionate and appropriate to the risk.
The earthquake and tsunami have affected distribution infrastructure leading to some interruption to supplies of items such as bottled water, rice and toilet paper in Tokyo, as well as interruptions to power supplies. The Japanese government has announced that it has sufficient stocks of rice for the entire population, and there has been no impact on Tokyo's mains water supply.
Daily flights are leaving Tokyo to the UK for those British Nationals who wish to leave. We have Embassy response teams at Haneda and Narita airports assisting British Nationals and liaising with airlines.
Are you contingency planning for an evacuation?
As in any crisis on this scale we are planning for all contingencies. This includes standing arrangements to charter flights from the UK if required. This work has been led by COBR, which has met regularly since the crisis began.
BUSES
Why are we a day behind other countries in chartering buses?
Britain has provided a rapid and comprehensive response to the earthquake and tsunami, reinforcing our Tokyo embassy with over 50 additional staff, including extra Japanese speakers. Other FCO staff from around the world have also been activated in support. Rapid Deployment Teams have deployed to the worst affected areas, and are supporting British nationals as we speak.
Given the scale of the disaster, ministers have decided to provide a higher level of support than the standard consular assistance package for those directly affected by the earthquake and tsunami, and their families. This assistance includes help with transport out of the immediate danger zone and from Sendai to Tokyo. The British Embassy has chartered a coach from Sendai to Tokyo which will leave tomorrow. Demand for this service has so far been very low.
Our assistance includes help with transport out of the immediate danger zone and from Sendai to Tokyo; financial support for people who need essentials such as food, accommodation and clothing, and telephone calls home. Our staff have arranged for a bus to transport British Nationals from the Sendai region to Tokyo later today local time.
Published 16 March 2011