World news story
Japan learns of UK capabilities in evidence-based medicine
Evidence-based healthcare policy and medical decisions seminar in Tokyo introduces UK expertise to a wide audience and outlines potential for collaboration.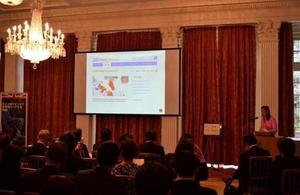 On 17 December 2015 Japanese health and policy professionals, industry representatives and media were brought together to attend this influential seminar.
Led by UK Trade and Investment (UKTI) Japan and hosted at the British Embassy Tokyo, the event intended to promote evidence-based policy measures and medical decision-making in clinical settings.
It enabled a platform for speakers to share UK experience and expertise in evidence-based medical choices more broadly. The seminar also created a good opportunity to exchange UK and Japanese experience and knowledge on the subject, focusing on areas such as vaccine policy.
Importance for Japan and the UK
Both countries share the common problem of an aging society.
This brings about the major question of how to effectively use limited government funds to promote sustainable social welfare, and raise healthy life expectancy. This is a challenge, but at the same time it is an opportunity to develop a better healthcare system.
In the UK, the importance of Evidence-Based Medicine (EBM) was stressed early on with a view to controlling medical costs and encouraging evidence-based healthcare methods.
The topic of preventive medicine came across strongly during the seminar. Understanding the benefits and risks is important for everybody from policy makers, medical professionals, pharmaceutical companies, and even ordinary citizens. The message of using evidence-based medical information to achieve this and the importance of trust amongst all parties was well recognised.
It was clear from the seminar that opportunities to strengthen collaborations between the UK and Japan in the healthcare and medical fields are abundant. This represents great chances for British companies to engage further with Japanese counterparts and explore business opportunities.
One of the guest speakers, Dr. Hajime Kamiya, Senior Researcher at National Institute of Infectious Diseases noted:
I fully realised that further improvement for researches and investigations about adverse events after vaccinations is still needed in Japan from the global standard point of view.

Japan's measures towards adverse events and lack of appropriate risk communication have also significant impact to the global community.
Top themes for companies to consider
UK companies wishing to engage in this sector will benefit from understanding these main discussion points covered during the seminar:
vaccine programmes are best governed by a scientific evidence-based policy
sufficient monitoring for safety and efficacy, with transparency and with scientific advice by experts is important
science-based evidence is able to support government health policy
effective communication and general education of immunization from the government to the public, health professionals and media is crucial
strategies for dealing with potential adverse events (AEs), including epidemiological surveillance of the background rates of potential AEs, is required prior to setting up vaccination programmes
Next steps
Contact us if you would like to understand more about the work being done to strengthen collaborations between the UK and Japan in evidence-based medicine.
If your company has expertise in this area our team can support you in entering the Japanese market and connecting to the right people.
Published 2 February 2016